A large number of silver-aged people reaching retirement age are still full of energy, hoping to continue to work or even start their own business. Senior entrepreneurship has become a trend in many countries. The senior entrepreneurship is not only creating and redefining the value system for the working seniors, but also evolving the perception of ageing. Through continuous learning and work, it helps seniors to establish their roles to gain independent and dignity at work.
Kick started in September 2020, the Season 8 Programme of "PolyU Jockey Club 'Operation SoInno'" consist of a series of activities under the theme of "Silver Age Startups", for encouraging senior citizens to use their accumulated skills, knowledge and experiences to kick-start their socially beneficial projects.
Teams Entering Action Project Stage
Seven teams of 50+ social entrepreneurs shared their social enterprise ideas on the "One from Hundred Thousand" Social Innovation Symposium which was held on 28 November 2020. After careful considerations by our judging panel, the three projects below were finally awarded the seed grants and entered the "One from Hundred Thousand" Social Innovation Symposium "Season 8: Silver Age Startups" Action Project stage (in no particular order):


MassageXercise Pain Relief

Combining massage techniques and exercises to tackle the root cause of the problem of pain among elderly. After eliminating their pain with massage techniques, related exercises will be taught to prevent recurrence.



DanzUp

Fall Prevention DanzUp Programme that focuses on rhythmic movements to strengthen the spine, leg muscles and joints, and body balance so as to reduce fall risks in young elderly, strengthening body and mind through happy rhythms.



Easy Breezy In-Home Learning

Provide on-site "one-to one" or online interest classes for caregivers of disabled family members, so that they can stay at home and enjoy learning with their family members.
Congratulations to the above teams for being awarded the seed grants! We look forward to seeing their performance for the six-month social enterprise projects!
The four stages of the Programme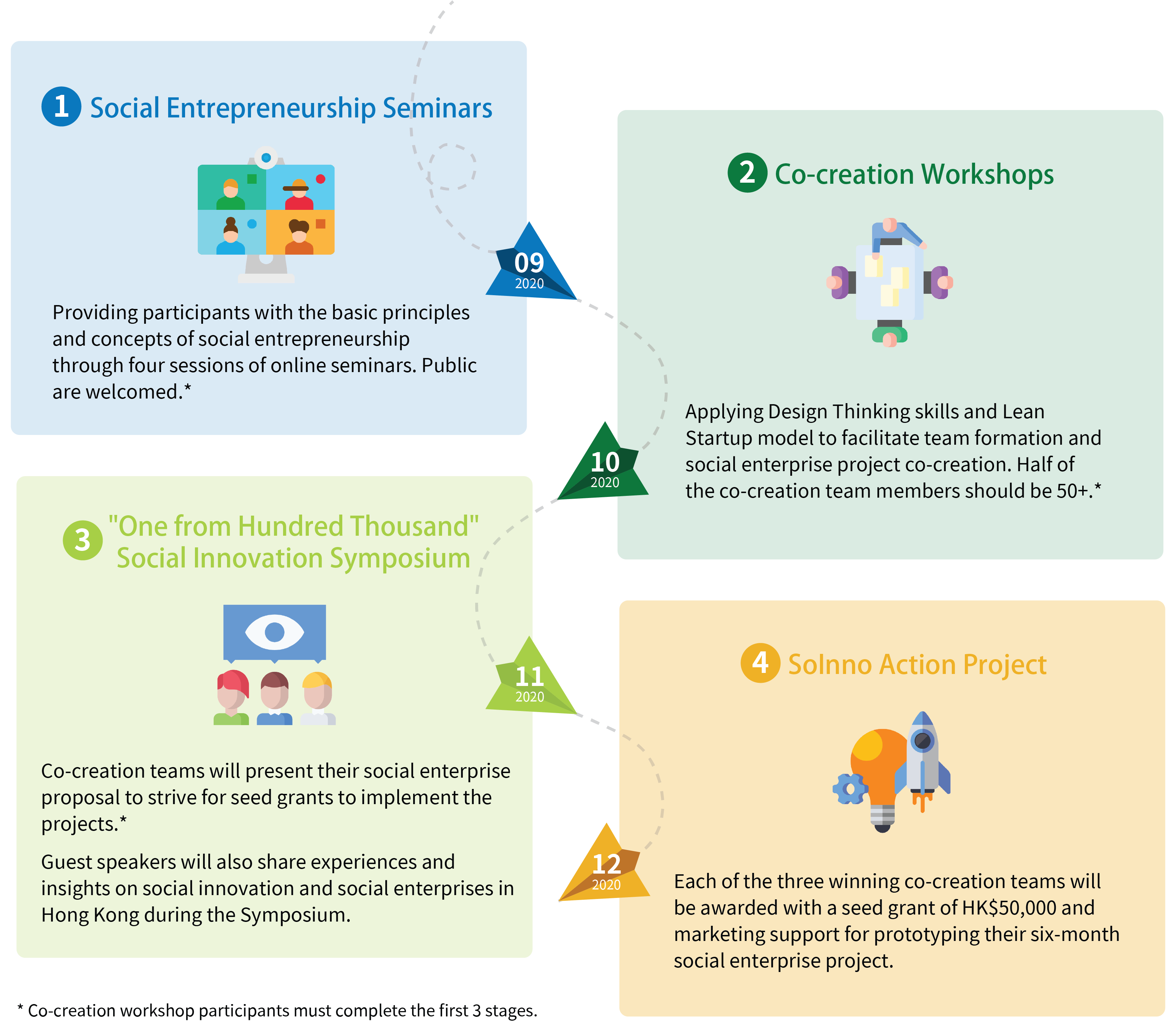 Programme Details
Stage 1: Social Entrepreneurship Seminars

Stage 2: Co-creation Workshop
Stage 3: Social Innovation Symposium
28 Nov 2020 | 9:30am - 1:30pm
🔹 Co-creation Team presentation
🔸 Guest Speakers sharing on Social Innovation and Social Enterprise

Guest Speakers




Dr Ka Kui Tse




Co-Founder of Impact Partners HK




"Social Innovation Thought Leader of the Year 2020"

Awardee by Schwab Foundation






Mrs Rebecca Choy Yung




Business entrepreneur turned social entrepreneur




Founder & Chair of Golden Foundation


Chair of Social Enterprise Summit






Ms Zip Cheung




Social Entrepreneur


CEO & Founder of OHH Dear Communications



Judging Panel


Mr Raymond Chu
Assistant Director of Institute for Entrepreneurship of PolyU






Mr Horace Lit




Executive Manager, Charities (Grant Making - Elderly and Family Services) of The Hong Kong Jockey Club







Mr Timothy Ma, MH, JP




Co-opted Task Force Member of SIE Fund








Ms Irene So




Executive Director of Zeshan Foundation








Mr Damien Wu




Director of Digital Transformation of Chinachem Group




Stage 4: SoInno Action Project
Dec 2020 to Jun 2021
🔹 Winning co-creation teams to prototype their Social Enterprise project