This is the story of the senior entrepreneur, Ms Kit Chan, the Founder of her company, Simple Swallow Meal Limited.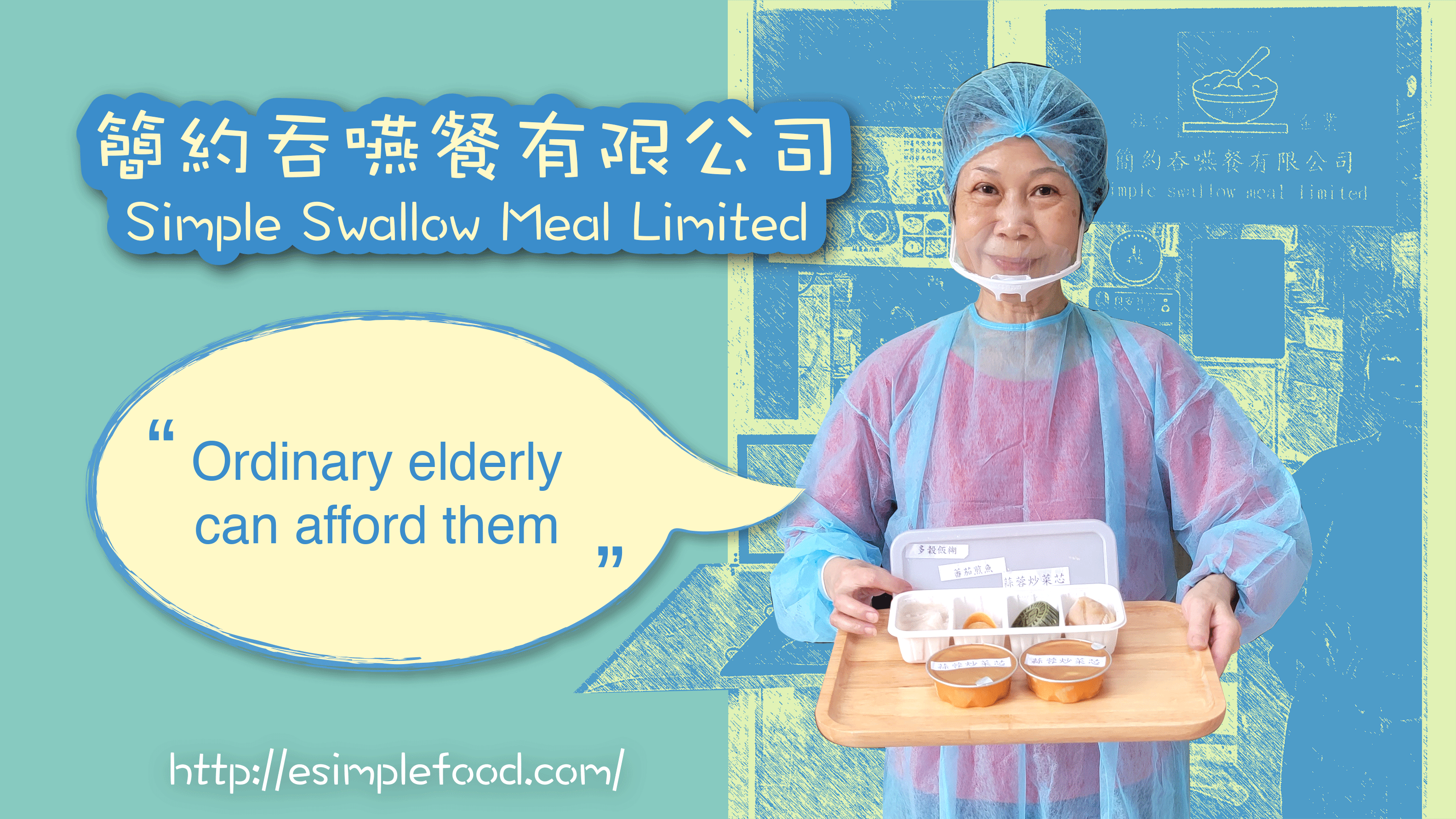 Aspiration of setting up entrepreneurship: to fulfil social responsibility
Kit decided to get retired when she was 58. She had been running a hair salon for more than ten years before her retirement. She planned to take a rest and not engage in any business for the first two years of her retirement life. During those two years, she travelled to different places and actively attended various workshops and lectures to improve herself.
However, Kit was bored of a life of just having fun. She began to think about what she could do. She used to be a businessperson and thought she would like to re-start another career without returning to her old profession. She knew that she did not have many choices because she did not have high educational qualifications. She hence started to think and observe what kinds of social needs her existing skills could fit into.
She learned about the operation of social enterprises through her self-improvement and further education activities in the past two years, and she developed a strong interest in social enterprises. She believed that she could also do something to fulfil her social responsibility. After some more exploration, she chose the service of providing nutritious soft meals to the people in need.
Kit believes that many people in Hong Kong need to eat soft meals, but soft meals are not common in Hong Kong. By considering her skills, she was confident that she would be able to prepare and provide soft meals. So, Kit decided to set up a company called "Simple Swallow Meal Limited". This was a very new and challenging career for her. She began to learn from different sources, such as searching online information to study examples and cases from other countries.
Daily operation: strive to develop new market
Kit thought that there should be a large demand for soft meals in the market, yet she did not know how to reach out to the users. Most people who need soft meals are not direct customers, but you need to let this group of people understand the benefits of soft meals so that they are motivated to buy them.
Therefore, Kit organized some tasting events to collect customer feedback. After applying for a food licence, she started to approach different institutions, nursing homes and speech therapists to seek collaboration and aim to further promote soft meals.
At the beginning of the operation, Kit rented a kitchen to make soft meals. But then she realized that the cost of rent and ingredients were remarkably high and decided to transform her industrial property into a kitchen a year ago. She also applied for a food production licence. It was quite a large sum of investment, but Kit was optimistic about it. She said the same amount of money would be gone if some retirees went on one or two trips to Europe. She preferred to spend the money on a career she enjoys rather than just having fun.
In addition, Kit believes that soft meals that currently available on the market cannot meet the individual needs of customers. She believes that customers who need soft meals may need different tastes or softness, so she designed "four textures, three strength of flavours", that are suitable for the needs of different customers. For example, if the elder can chew by himself, he would not be advised to try the softest paste to avoid early deterioration of function.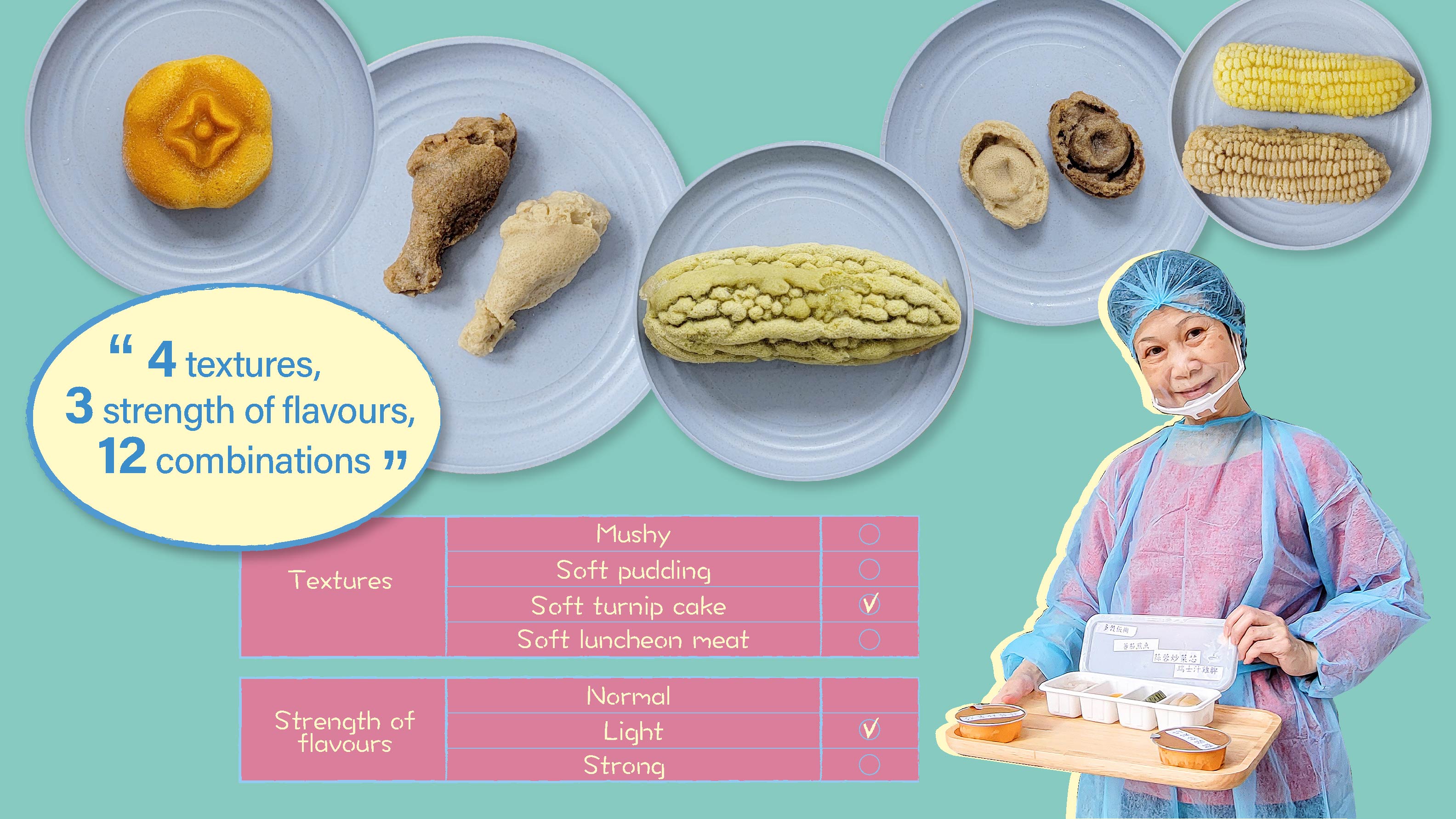 Regarding marketing, Kit mainly promotes her soft meals through mailing leaflets to organizations and institutions. But so far, she still has not found any institutions or partners for long-term collaboration. The company presently still focuses on retailing.
Do it by yourself: understand your personality
For Kit, one of the main challenges of setting up a business is cooperating with other people. Kit always liked to work on her own ever since she was a kid; she rarely worked together with others. However, soon after setting up the company, she realized that she could not handle all issues by herself and that she would still have to coordinate and collaborate with different people. She expressed honestly that she always acted quickly and decisively, and she understood that such character was likely to cause trouble or disputes over workload distribution if she worked together with others.
To solve this problem, Kit understands that she needs to reach out and interact with more people and learn from their opinions and experience. As a result, she often attends different activities to communicate with numerous people and share her experience and insights. She participated in an internship program in a food company to learn the methods of food processing and the operations of food suppliers. She also obtained government recognized certificate of Food Hygiene Certificate for Hygiene Managers, and the internationally recognized certificate of Hazard Analysis and Critical Control Points (HACCP). She is a member of the International Food Safety Association. She often attends the activities held by the association for information exchanges and to learn the latest updates in this profession.
Due to the Covid-19 pandemic, Kit faces another challenge which is the suspension of originally scheduled food tastings in different institutions. This food tasting project has been suspended for nearly a year now. However, Kit has not given up. She tries to develop new projects such as the promotion of 'meal packages' - prepared dishes that customers can buy from them and eat at home straightforwardly.
The Way Forward: Focus on Production
At this initial stage, Kit has no plans to expand her company yet. The company is focusing on retailing now and sales rely on references by friends, regular customers and some promotional activities. Kit hopes that she will find collaborating institutions and nursing homes as partners in the long run. Mapping the way forward, Kit wishes that our society will have a better understanding of soft meals; and will pay more attention to those in need in their communities.
Kit's other wish is to help vulnerable groups in our society. One example is by establishing a franchise network to sell her soft meal products, while she can focus on the production. She suggests franchised stores or workshops can hire grassroots people to help them with job and income opportunity. In addition, she thinks the soft meals on the market are expensive. She hopes to control the cost so that "ordinary elderly can afford them".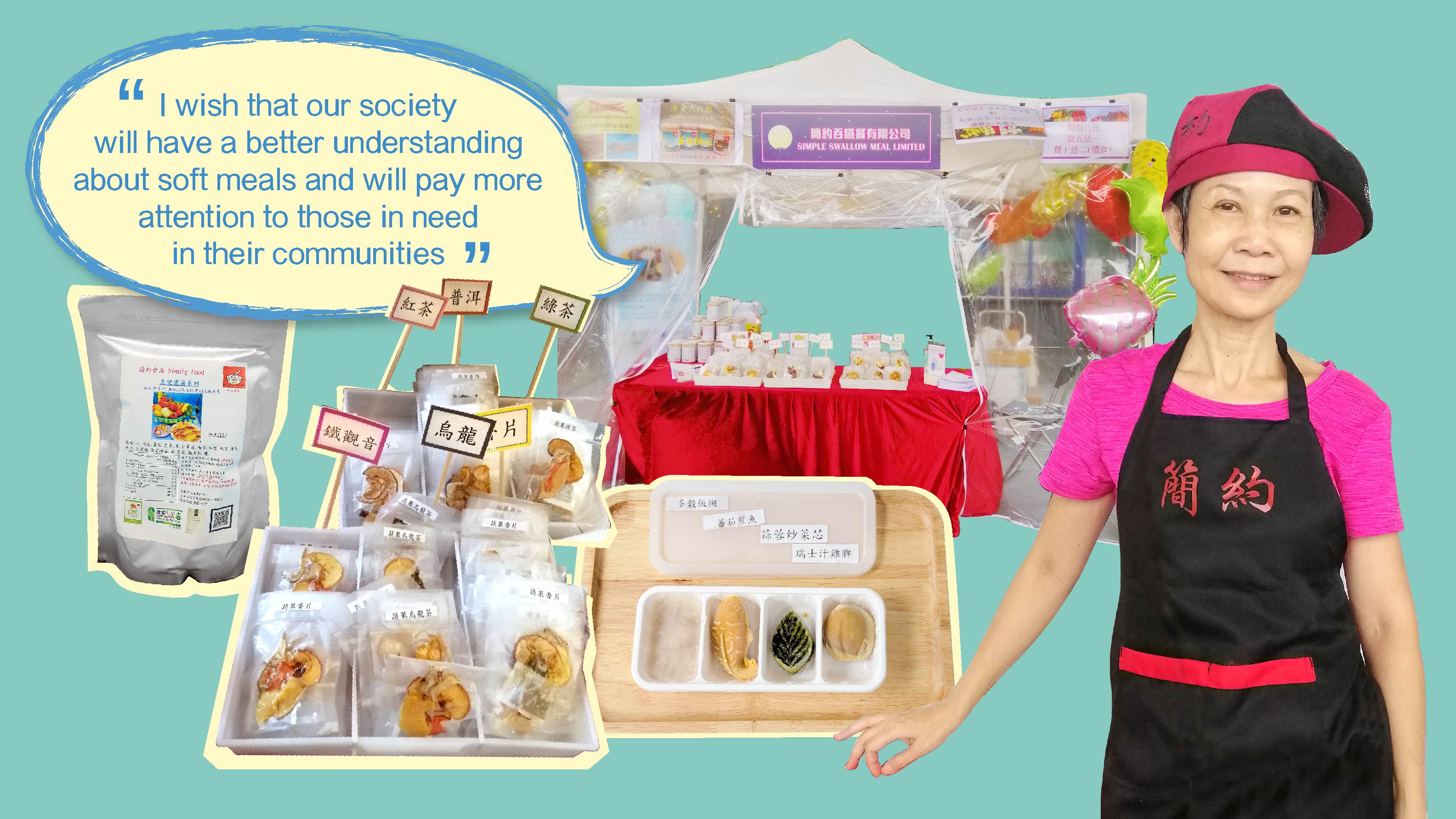 Advice for setting up a business: reduce expenses
Kit thinks that the operation of social enterprises is different from other general profit-making businesses. She would not have chosen to set up a social enterprise if her purpose had been only to make money. She made it clear, "The retirement represents the ending of the first half of my life, which means I don't need to work hard merely to make money now. For me, and for now, the most important thing is the feeling of new experience and new excitement."
Her other advice is to minimize the expenses of a company to ensure the chance of success will be greater. She said she is willing to lend her kitchen to friends who want to set up a business; she is happy to teach new entrepreneurs about how to obtain their trademarks and thus enhance their abilities.
Kit is really a positive, active and energetic entrepreneur.
Website
Chinese Text: Rena Lau
English Translation: Sui Chu Wu
Photography and Design: Jenny Ma