Author: Albert Tsang
It was early October of 2020, we were about to kick start the workshops at Toi Shan Association College. A group of students from liberal studies were about to join, the topic is on wealth disparity. All sounds pretty straight forward. Except for one thing that changed everything, Coronavirus.
This is one of the workshops that is going on during the time of the pandemic. At some point we are not even sure if the whole workshop could really go underway. At the end we made it happened with a mix of online and face-to-face sessions.
Now looking back, we have to admire the determination and resilience shown by the education field, for a promptly switch to remote learning. Many makeshift online versions of the classroom still remain a replication of what is happening inside a conventional classroom. Many are simply teachers giving lectures to students in front of the cameras, with limited interaction. Some teachers stated that the interactions is in fact even much less than what they used to have in a physical classroom. But, human is a creature of habit, and even more an animal of acquiring new habits. So in just a few months, everyone is settled, online learning become the new normal. The new normal also has an original sin of being conceived as transitional, everyone is expecting this to be gone, maybe not soon, but one day definitely. This contributes partly for why most of the effort to better the experience is for short term.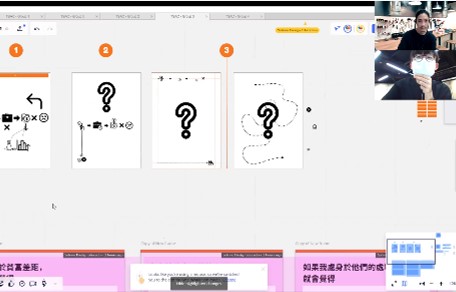 By the time we first met them, the students were just about to get comfortable to take classes online, but suddenly the new context becomes old very quickly as now the task is to try to collaborate online. There is a non-written rule in design education, which is to keep the young learners away from learning design through photoshop or Adobe Illustrator at earliest stage, but to do so through pencil and markers. And of course, only because of the sessions are conducted through the screens, it does not mean that we could not mail them physical materials to work on. But it is also digitally naturally that at some point we simply could not avoid the fact that they will have to work on something together online. This is like a lesson for learning pointing back onto our team, that we have to practice what we preach, which is to look for design opportunities and fun in limitations. Thanks to the online collaborative platforms like Miro, the students were able to discuss and do tasks together. But many of these attempts are merely graphically more pleasant, the logic behind is nothing different from all those online lectures—we were still trying to replicate the offline activities (but we have to state that it is already a remarkable achievement). The bonus came when we decided to lead the students to taste the primordial fun of computer-aided design. You do not have to be a designer, anyone who even only has the experienced of using a filter in the photo apps would know what I mean. We all have once been amazed by the outcome we made with those pre-set features. We also might have spent much much longer than we should on exploring those features like a new toy. With the help of the online icon library, the students are enabled to try to design a poster together. We led them to try to do something minimal, and yet complying with basic aesthetic rules together with clear messages. And the results are beyond satisfactory and would have been
impossible given that they did not have any drawing and visual communication training.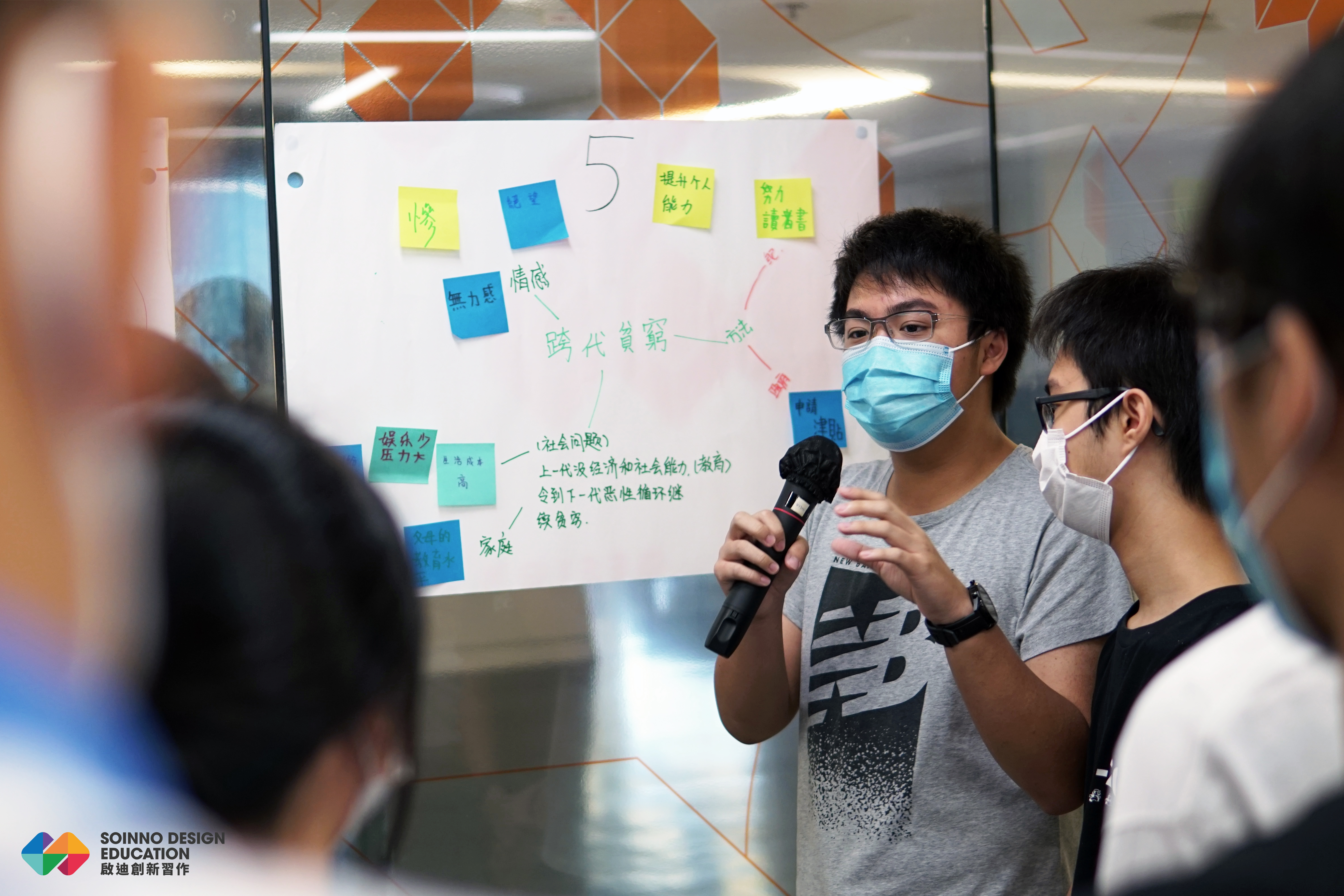 In the middle of the project, there was suddenly a brief window of a few weeks that we could meet again. Thanks for this opportunity we could explore with the students of how making could be a way of knowing. In many maker learning projects, and of course including those of our own too, making is much emphasised as a skill to materialise an idea or design, which is generally viewed as consequent to or consequence of thinking, instead part of the thinking. The cognitive aspect of making more often than not remains implicit if not being totally neglected in the process of learning. Referencing the perspective of practice-led research, making is instead a means to not only to realise a thing, but also an act to conceive and comprehend. This aspect of "knowing through making" is explore through the session of quick model making. After digesting the online materials and a great input sessions provided by our guests from World Vision Hong Kong, the students begins to have some ideas and vague feelings towards the topic. The soup of all these juxtaposing thoughts is sincere and strong but also hard to grasp, let alone to articulate.
The quick model making task at this point is thus for them to have an outlet through creation of artefact. The students are asked to making scaled model of an installation that could give others the feelings of people under the influence of social disparity. Although the task may sound immense and vastly abstract, it in the contrary helped the students to anchor the vague thoughts into concrete objects.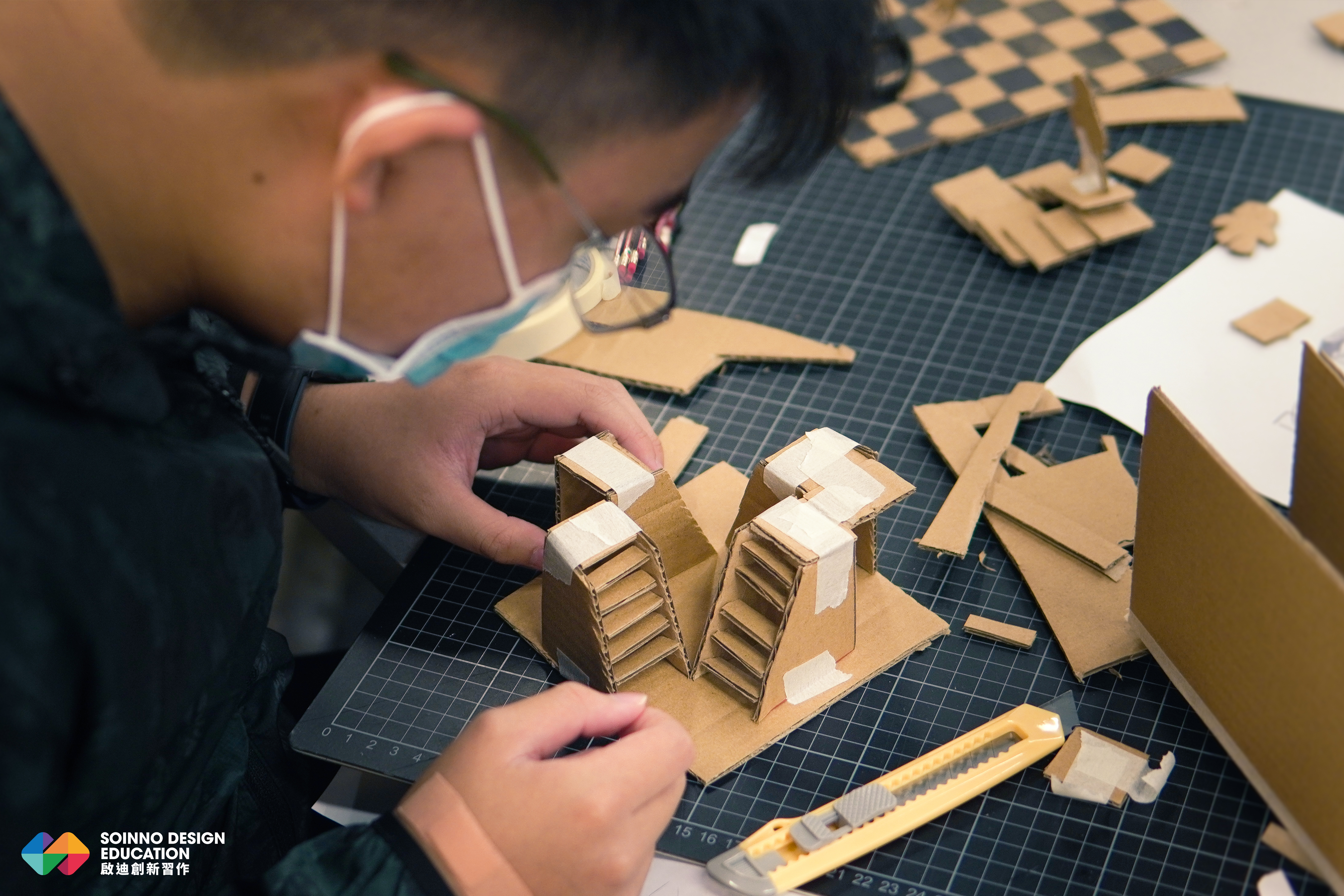 Reference:
Mäkelä, M. (2007) "Knowing through Making: The Role of the Artefact in Practice-led Research". Know Techn Pol 20, 157–163. https://doi.org/10.1007/s12130-007-9028-2