Author: Mr. Yuen Kai-Lun (Assistant Principal, Shun Tak Fraternal Association Yung Yau College)
Translator: Centre for Translation Studies, Department of Chinese and Bilingual Studies, The Hong Kong Polytechnic University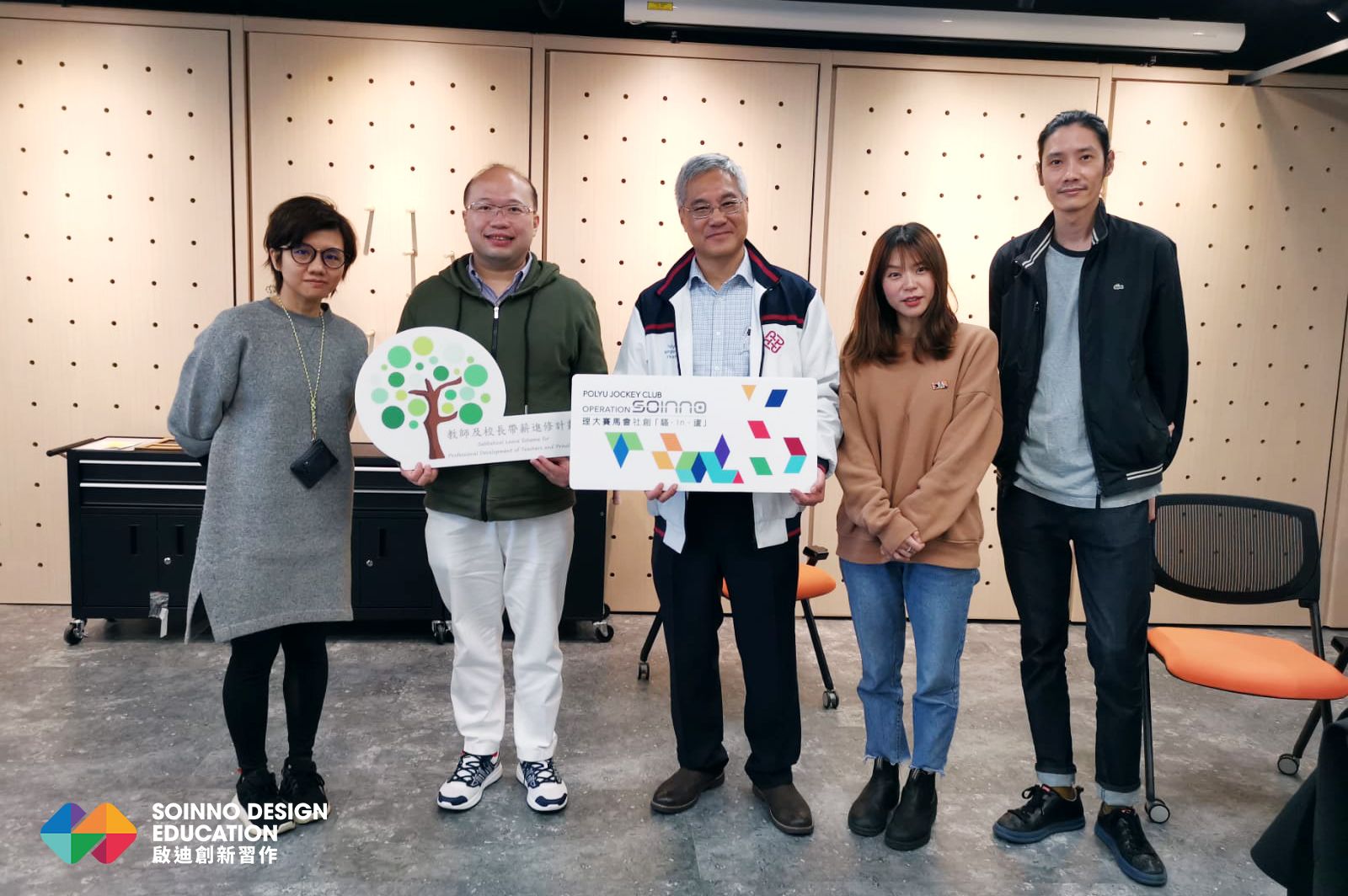 The professional quality of teachers is closely related to the effectiveness of teaching. To prepare students to meet the challenges and opportunities of the 21st century, teachers should keep up to the age by constantly updating their knowledge and improving their professional skills. When the changes or integration of education policies comes, teachers could then play an important role in their positions, so that schools can sustain development and students can keep making progress.
The implementation of STEM education is inseparable to the professional development of teachers. At the same time, STEM education and design thinking can complement each other. Developing STEM education with design thinking can better meet the professional development of teachers and the needs of students. The core of STEM education lies in how to implement people-centred design into secondary school education, and turn it into a new student-centred teaching model.
| | |
| --- | --- |
| | |

In general, most of the professional development activities of teachers take the form of oral presentation with slides, videos and Q&A sessions, or hands-on activities. Earlier, I took the sabbatical leave to further my study on design thinking in the National University of Singapore. As I believe professional development of teachers require diversity1, I tried to introduce their professional development model and experience into Hong Kong and match that up with our development in STEM education. We offered primary and secondary school teachers a workshop named "Using Design Thinking in School-Based STEM Education Curriculum Planning and Design". The teachers could experience in first-hand how to develop interdisciplinary curriculum through design thinking, and run a STEM "exploration class". Participants were able to fully experience the whole curriculum in a simplified way, make it easier for them to relate their experiences to classroom situations. Meanwhile, by first-hand experience, the teachers could understand more of the difficulties encountered by students. The part impressed me the most was during the discussion session after the "class", in which the "students" tried to share their feelings and difficulties from the perspective of learners. The observers also offered valuable opinions on what they have observed. By playing different roles, participants jointly created a new interactive learning model with design thinking, which has changed the communication mode professional development of teacher. I also had the honour to be invited by various primary, secondary and special schools to share our design experience and outcomes with the theme of "Using Design Thinking in Science and Innovation Curriculum Design" on the Teachers' Development Day, so that more teachers could understand how to include design thinking in the curriculum of primary and secondary schools.
| | |
| --- | --- |
| | |

Teaching is a complicated activity. It is influenced by many factors, such as teachers' knowledge and beliefs, focus of the teaching content, students' learning style, methods to organise classes and meet different students' needs in learning2. The teaching practice and classroom environment can affect the professional development of teachers. Therefore, I hope my fellow teachers can continue to reflect on the teaching practice and optimise the curriculum. I hope you can uphold the spirit of design thinking and share your learning and teaching outcomes with peers. In addition to including design thinking in primary and secondary schools, I wish you can also bring that into professional learning and development of teachers. Finally, I would like to give my sincere gratitude to PolyU Jockey Club Design Institute for Social Innovation. I am thankful that I had this opportunity to explore other possibilities of secondary school education, and integrating social innovation and design thinking into interdisciplinary study of secondary school. I hope my fellow teachers can walk a different path in professional development of teachers and continue to improve their professional quality.
Reference:
[1] Hammerness, K., Darling-Hammond, L., Bransford, J., Berliner, D., Cochran-Smith, M., McDonald, M., & Zeichner, K. (2005). How teachers learn and develop. In L. Darling-Hammond (Ed.), Preparing teachers for a changing world: What teachers should learn and be able to do (pp. 358-389). San Francisco: John Wiley & Sons
[2] Timperley, H. (2008). Teacher professional learning and development. Educational Practices Series, 18. http://www.ibe.unesco.org/en/services/publications/educational-practices.html
[3] Britishcouncil.hk. 2020. [online] Available at: <https://www.britishcouncil.hk/sites/default/files/21st_century_skills_cn.pdf>.