SEE THE WINNING DESIGNS | Competition Details | About the Site | Design Considerations | Resources Download | FAQ | Supporting Organisations
Background & Objectives
The Intergenerational Play Space Design Competition | HKHS Prosperous Garden is a design competition organised by the Jockey Club Design Institute for Social Innovation (JCDISI) together with the Hong Kong Housing Society (HKHS) as "Action Project Co-Organiser".

The Competition is an Action Project stemmed from JCDISI's "Intergenerational Play Space" co-creation workshops and symposium conducted in 2019 under PolyU Jockey Club "Operation SoInno". This is a Two-Stage competition for University and Professional Categories. Teams of professionals and university students are invited to develop an innovative "Intergenerational Play Space" design proposal through participatory co-design for Prosperous Garden in Yau Ma Tei, Hong Kong.
Objectives
The objectives for the design of the Prosperous Garden Public Space are as follows:
Provide an overall park environment that would increase elderly users confidence and incentivise them to take more outdoor physical exercise
Encourage young and old to use the park and its play equipment together for more proactive intergenerational interactions and play
Reinforce the positive behaviour of the elderly users by showing them evidence of the benefits to their well-being achieved by their utilisation of the Intergenerational Play Space
Strengthen community social cohesion and residents' sense of belonging through increased interaction
Serve as a prototype that would facilitate the transformation and creation of more intergenerational play spaces in Hong Kong
Who Should Enter

The competition is open to all students and professionals in Hong Kong and outside of Hong Kong. Entrants are strongly encouraged to include team members from two or more of the following disciplines or expertise:
Spatial design
Product and industrial design
Play and/or fitness equipment design and safety assessment
Smart ageing and assistive technology
Smart city and IoT

Rehabilitation science
Health and well-being management
Community engagement
Community building and placemaking
Venue management
For professional categories, one of the team members must be a registered member of the following organisations or other similar qualified professional bodies outside of Hong Kong:
The Hong Kong Institute of Architects (HKIA)
The Hong Kong Institution of Engineers (HKIE)
The Hong Kong Institute of Housing (HKIH)
The Hong Kong Institute of Landscape Architects (HKILA)

The Hong Kong Institute of Planners (HKIP)
The Hong Kong Institution of Surveyors (HKIS)
Hong Kong Institute of Urban Design (HKIUD)
Hong Kong Occupational Therapy Association (HKOTA)
Hong Kong Physiotherapy association (HKPA)
Timeline
Stage 1
30th May: Briefing session
30th June: Deadline for group registration and portfolio submission
Stage 2
8th August: Engagement workshop
9th October: Deadline of Design Proposal submission
19-26th October: Public voting period
14th November: Award Ceremony
Prizes & Awards
Sponsored by Hong Kong Housing Society
The winning teams and shortlisted team will be awarded the following cash prizes and certificates with merits respectively. There will also be a "My Play, My Say" Award that will be awarded a certificate of merit.
Professional Category
1st - $30,000
2nd - $20,000
3rd - $10,000

Student Category
1st - $10,000
2nd - $7,000
3rd - $3,000
Competition Jury Panel
Stage 1
Stage 2
Prosperous Garden, Prosperous Garden, 3 Public Square Street, Yau Ma Tei, Kowloon

Prosperous Garden is located at the original site of the Six Streets in Yau Ma Tei. 112 early post-war buildings were claimed by the Government in 1975 and handed over to HKHS under a non-renewable lease for redevelopment. To date, Prosperous Garden provides 157 Elderly Persons' Flats - about 10% of all the residential units in the site.

HKHS is committed to improving the tenants' quality of life complementary to property management service, thus launched the Ageing-in-Place (AIP) Scheme in 2012, which is now extended to all of its 20 rental estates, including Prosperous Garden. Through mobilising community participation, partnership with the government departments, welfare organisations, healthcare service providers as well as academics, a one-stop service and concern network for the elderly residents is established to fulfill their needs in housing, healthcare and social support, so as to help them age in place.

The Prosperous Garden Public Space is a central point and gathering place for all residents regardless of age. It is therefore important to increase the functionality of the public space and complement the AIP Scheme by upgrading the outdoor play facilities to encourage intergenerational play.
The teams from Season 4 co-creation workshops have consolidated six Intergenerational Play Space design considerations.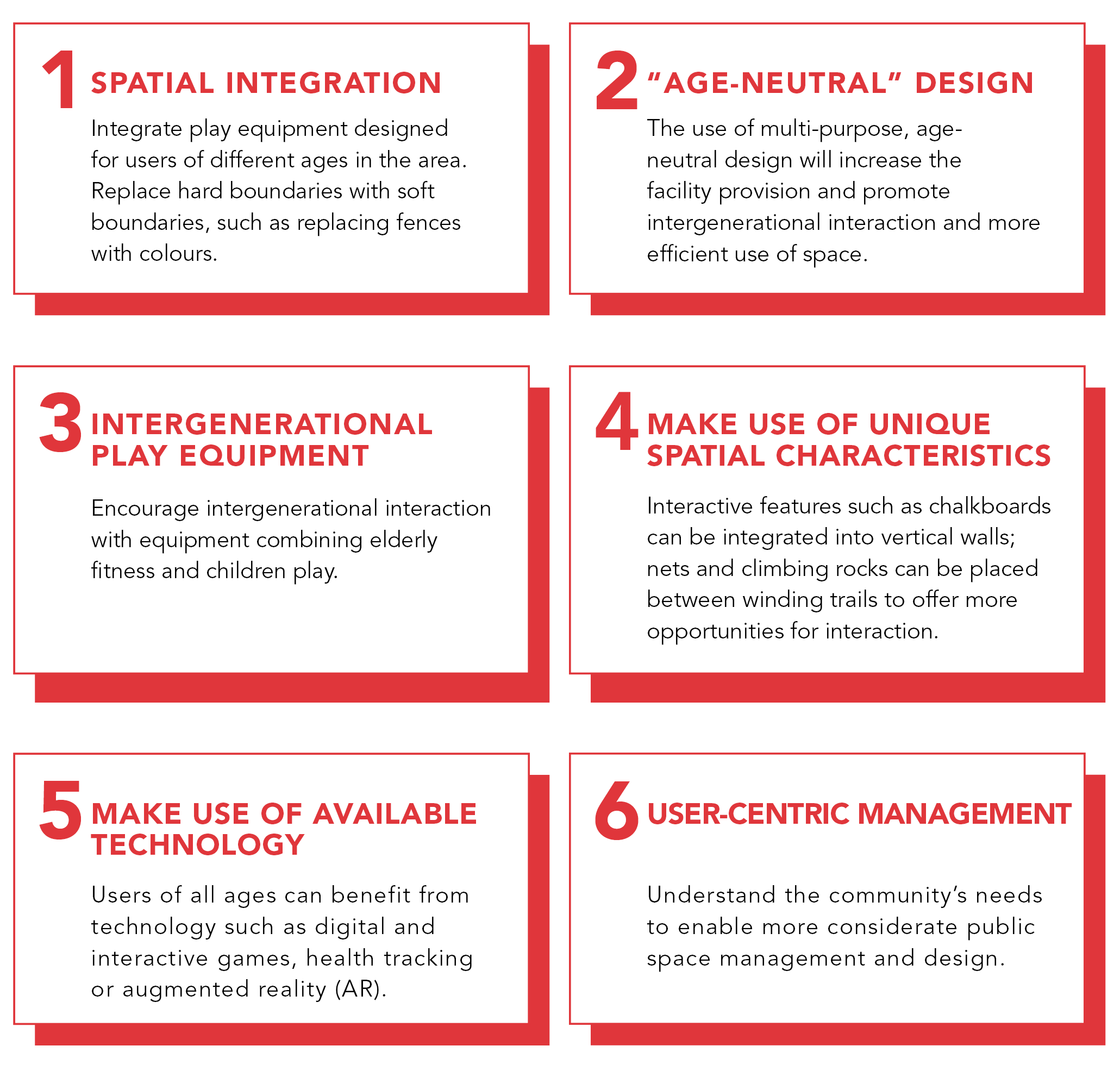 Competition Brief

Stage 1 Submission Documents
Site Information (DWG & PDF)
Stage 2 Additional Site Information
Video Series 1 - Sharing from Intergenerational Play Space Panel
Produced and edited by JCDISI

Video Series 2 - Sharing from Jury Panel
Produced and edited by HKHS
Eligibility and Team Composition
What is the difference between professional and university category?
For University Category, teams can be composed of current students in tertiary education. For teams in the Professional Category, one of the team members shall be a registered member of the listed organisations in Section 2.3. Professional teams shall register and submit a conceptual design statement for shortlisting in Stage 1. A maximum of six entries will be shortlisted and advance to Stage 2. Shortlisted teams shall submit a Detailed Design Proposal and a tentative budget plan for assessment. University teams shall register and submit a conceptual design statement for qualification assessment in Stage 1. Only teams who have successfully registered in Stage 1 and shall submit a Design Proposal for assessment in Stage 2.
Is there a limit on the number of team members?
The number of team members is limited to a minimum of 3 persons and a maximum of 6 persons.
Is it compulsory to form a cross-disciplinary team?
Yes. Each team is strongly recommended to include members from suggested disciplines in Appendix 3.3.
Can I submit a proposal with friends as a member of their team?
Yes. Participants can submit proposals as members of a team. However, proposal submission under the name of a company is not accepted.
Are participants required to be a member of a professional body?
The design competition is open for all students and professionals in Hong Kong and Overseas. For Professional Category, one of the team members shall be a registered member of one of the professional bodies suggested in Section 2.3 Admission.
I have no experience in playspace design, am I still eligible for the design competition? If so, how should I prepare myself?
Participants from other disciplines and expertise are welcome to join the design competition. We encourage participants to bring their own disciplinary knowledge and skills into the field of intergenerational play, active ageing and healthy ageing. We encourage forming a multidisciplinary team to increase the functionality and applicability of the design proposals. A full list of suggested disciplines could be found inside Section 3.2.
Are international teams eligible to join this competition?
Yes, non-Hong Kong-based participants are welcome to join the competition. However, at least two of the team members must be able to attend the compulsory workshop held in Hong Kong. No bilingual translation is guaranteed throughout the competition. International teams should consider team dynamics as well as language ability during team formation.
If I am a member of the listed organisations but I am not currently employed by any company, am I still eligible?
If you are not currently employed in a registered company or organisation, you can still pair up with other professionals but cannot be the Point of Contact (POC) of your team.
If I am a member of the listed organisations, can I team up with a student?
Yes, applicants eligible for the Professional Category can team up with current students in tertiary education. The team needs to be registered under the Professional Category.
As a university professor, can I integrate or use the Competition as a part of an existing course? Am I free to introduce mentors, organise site visits, or other experiences that will enhance the learning experience and outcome of the team? Likewise, as a university team, am I allowed to seek help from professors, friends, professionals from my network?
Yes. Universities may integrate the Competition into a course. Both professors and students are free to seek advice and experience that will enhance the quality of their design proposals. However, the spirit of the Competition must be respected and all works must be done by the registered team members only. Awards and certificates of recognition will only be offered to the registered team members. Acknowledgment for those outside the team is acceptable.
Will any screening be done for student stage 1 submissions? If so, what are the screening factors?
There is no screening for the university category, all teams who satisfy the admission criteria and have submitted valid documents will be able to get an entry code and proceed to Stage 2.
Project Background
If I want to know more about Prosperous Garden, who should I approach?
Please refer to the Competition Brief, Section 3.1 – Additional Site Information and Design Considerations for details. More information on Prosperous Garden and the Ageing-in-Place Scheme can be found on HKHS' website - www.hkhs.com. An engagement workshop will be arranged for University Category and shortlisted teams from the Professional Category during Stage 2. For special inquiries, you may send an email to

This email address is being protected from spambots. You need JavaScript enabled to view it.

.
Can I engage with the residents or community groups on my own?
To minimise disruption to the residents' daily living, all engagement activities with the Prosperous Garden community should only take place during the engagement workshop on 8th August 2020. Any additional engagement activities must seek prior approval from JCDISI and HKHS.
When and will the play space design be taken into further action?
The objective of the competition is to provide a foundation for improving play spaces in Hong Kong, including the Prosperous Garden Public Space, thus facilitating intergenerational harmony. HKHS will review the feasibility of the design proposals and have them serve as a reference point when improving the Prosperous Garden Public Space. The schedule of the said improvement work will be confirmed in due course.
Is Prosperous Garden a POSPD (Open Space in Private Development for Public Use)? Is it open to the general public and opened all 24 hours?
The Prosperous Garden Open Space is owned by HKSARG, with HKHS as the Grantee to manage. The space opens from 6am to 11pm daily. To minimise disruption to the residents' daily living, all engagement activities with the Prosperous Garden community should only take place during the engagement workshop on 8th August 2020. Any additional engagement activities must seek prior approval from JCDISI and HKHS.
Prosperous Garden was built to house those affected by the Ma Tau Kok Redevelopment Project. Is there any information related to the number of residents in Prosperous Garden right now who were once living in Ma Tau Kok?
There are currently less than 10 households left at Prosperous Garden's rental block which were affected by redevelopment projects, including Ma Tau Kok Redevelopment Project and the redevelopment of Yau Ma Tei Six Streets.
Competition Mechanism
Is it mandatory to include all six design considerations generated from co-creation workshop?
The co-creation teams consolidated the six design considerations from "One from Hundred Thousand" Social Innovation Symposium Series Season 4 – Intergenerational Play Space organised by Jockey Club Design Institute for Social Innovation in 2019. Each team is strongly advised to reference the co-creation workshop result. More information on the co-creation workshop can be found here.
Are there any mandatory requirements/functions to be included in the design proposal?
There are no mandatory requirements for functions. However, teams should deliver a design proposal that encompasses the objective listed in Section 1.4 of the Competition Brief and the attributes listed in the Stage 2 assessment criteria found in Competition Brief Section 2.5.
Is it mandatory to integrate IoT/ technology in the PG design proposal?
While the integration of IoT and technology is not mandatory, it contributes to several attributes in the assessment criteria and is therefore highly encouraged.
When will I receive my registration notification?
For University Category, confirmation of registration in Stage 1 will be sent out by emails with the registration code before 23 July 2020. For Professional Category, the six shortlisted teams will be notified by emails and calls no later than 30 July 2020. Incomplete submissions and unsuccessful applicants will not be notified individually.
Will design teams be provided with dwg file of the site?
The dwg file can be found in the Competition Brief & Resources section of the website.
Should I include the car park area of Prosperous Garden in my design proposal?
The car park area underneath Prosperous Garden is not part of the design competition. However, it is important to consider the potential impact on the pipe ducts and facilities conduits underneath when preparing your design proposal.
Do all team members for the professional team need to attend the engagement workshop?
At least 2 team members need to attend the engagement workshop for the professional category.
How will the public voting session be conducted? Are teams required to be present?
The public voting will be held physically in Prosperous Garden for the residents and the community to vote. Participants will be encouraged to show up during the core voting dates to present your project to the residents and get more people to vote for you. More details of the public voting will be released after Stage 1.
If the team consists of oversea university team members, are they required to attend the public voting day? Will there be other online ways to conduct public voting?
It is strongly advised if at least some members of the team can attend the core public voting dates. However, if the entire team is based overseas, we will consider alternative ways (e.g. online) for you to join the public voting upon request. More details will be released about the public voting after Stage 1.
Submissions
Where should I submit my registration in Stage 1?
The registration shall be submitted online on the design competition website.
Can I submit more than one design proposals and applications?
No. Each team can only submit one Design Proposal in this competition. Only the first submission shall be considered by the jury panel in the event of multiple submissions from the same participant.
What is the ownership status of the design proposals and items submitted for the winning teams and shortlisted teams?
The jury panel reserves the power to waive or to vary any of the conditions in circumstances where, in its sole direction, the best interest of the selection exercise would justify the course of action and the winning teams shall be invited to the advisory panel of consult.
Can I submit my design proposal in Chinese?
The official language of the competition is English. A Chinese-only statement will be accepted in Stage 1. For Stage 2, all submitted materials shall be in English, complemented with Chinese or other languages if necessary. The teams shall be responsible for its translation. If there is any inconsistency or ambiguity between the English version and the other version, English version shall prevail.
Is there a template that I would need to follow for the Stage 1 submission?
Yes. Participants should use the provided template of registration forms, conceptual design statement, previous project documents and declaration form for Stage 1 submission. The templates can be downloaded here.
Where should I put my registration code in the Stage 2 submission?
You should follow the details in Section 2.4 Submission Specifications and Procedure. No personal identity should be disclosed in the Stage 2 submission.
For the submission document, is the "team portfolio" section meant for the drawings of our design for Prosperous Garden?
"Team portfolio" refers to past projects from your team. You may also fill out the project's "competition year" and "awards" in the relevant sections if applicable.
Are the semi-indoor and outdoor space part of the design area? Can design teams add designs to the surrounding, unshaded area? Are there any height limitations?
The Prosperous Garden Open Space has both open and covered areas, please refer to the site layout plan for information. There are no specific height limitations for the competition, except for the current site restriction (i.e. headspace in covered areas). However, it is important to take into consideration the existing structural constraints; relevant legislative requirements; loading & safety; feasibility in terms of property management; and whether the new structure will block the view of residents living on lower floors. Design elements that are outside the Prosperous Garden Open Space will not be taken into consideration during the judging process.
Stage 2 Q&A
Please find replies to Stage 2 inquiries here.
Do not see your question? Email This email address is being protected from spambots. You need JavaScript enabled to view it. to let us know!
For further details of the PolyU Jockey Club "Operation SoInno", please visit here.
For other inquiries, please email This email address is being protected from spambots. You need JavaScript enabled to view it. or contact us via +852 3400 8159 (Mr Chung).