Interview with Vangi, Siu Lan's daughter.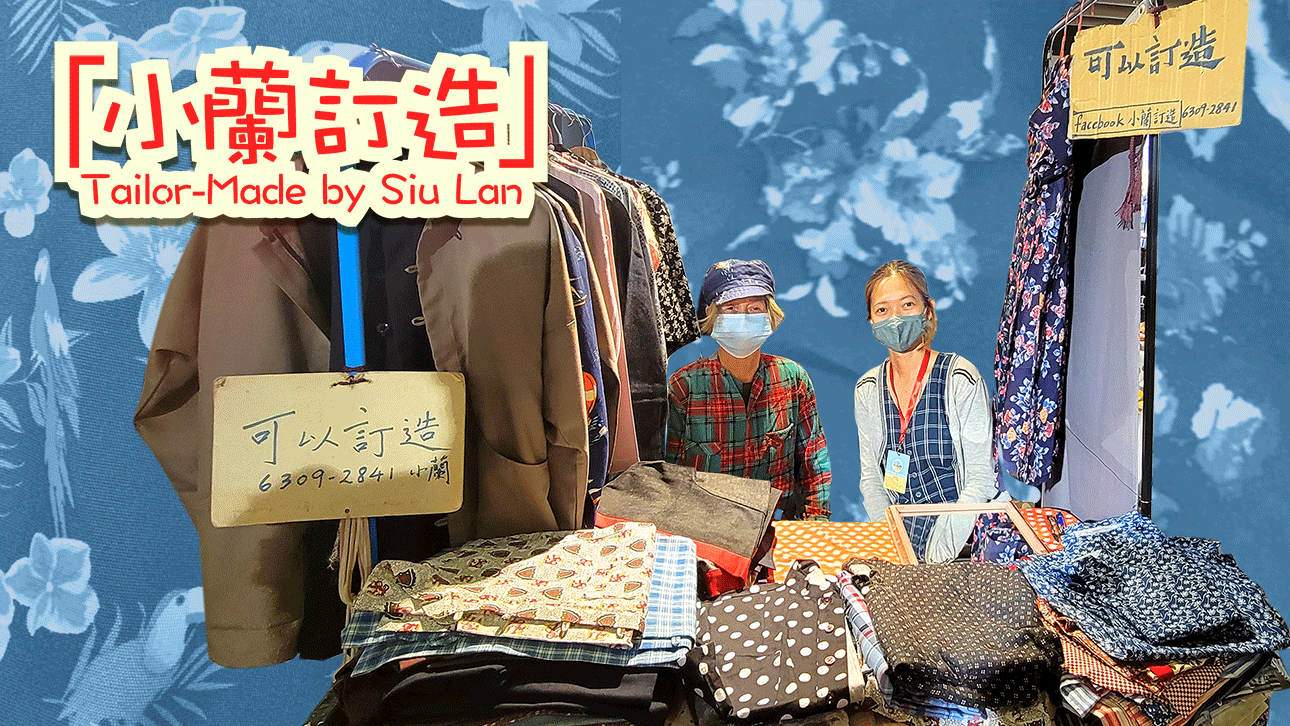 A business opportunity discovered by accident
Siu Lan is Vangi's mother. She got retired at the age of 68 and started her own business in 2010 when she was about 70 years old. Before her retirement, Siu Lan was a garment factory worker, a hawker and a labourer. But she had to stop working due to her old age and limited physical strength. After retirement, Siu Lan seemed to have lost her goal of life and only focused on the stock market – a life that Vangi described as "dispirited."
Coincidently, at that time, Vangi took on a new project about the West Kowloon Cultural District Market Days, which would invite some hawkers to set up stalls there. So Vangi tried to invite her mum to set up a stall. At first, Siu Lan was only selling some items found at home, but still, it was her first experience of setting up stalls at the market. In the beginning, Siu Lan was not very enthusiastic about it and Vangi had to keep asking her; but later on, Siu Lan started to set up stalls at Yao Ma Tei market as well. She got to know more friends gradually and was willing to chat with neighbours, especially young people.
The reason that kept Siu Lan carry on with her business at that time was other people's recognition of her hand-crafts. Siu Lan saw a large inflatable duckling outside Harbour City and liked it very much. She sewed some duckling or chick handicrafts for trial sales first. Some young friends suggested to her to turn them into chick hanging bags. Siu Lan worked in the garment industry in the Mainland when she was young and thus was experienced in making clothing. Her duckling products were popular and highly praised. Siu Lan thus formally established her brand "Tailor-Made by Siu Lan." She was invited to set up her stall in a fashion show in Sham Shui Po. Man Wing, a fashion designer who happened to be there, exchanged ideas with Siu Lan and encouraged her to make kimono jackets. Siu Lan added unique tailoring elements to her products based on her experience. The design was promoted in the fashion show and unexpectedly was highly admired again. Consequently, Siu Lan started to create tailor-made clothes for clients.
Support from the community
"The community markets, and the business, are taking care of some of Siu Lan's needs. To a certain extent, it is a relief for me." Vangi always says so when talking about Siu Lan's changes during the past years. Siu Lan's generation lived their life in a style of non-stop working. They seem to lose their identities once they got retired. Vangi was worried about her when she gets older and older. Vangi explained that her original intention of inviting Siu Lan to set up stalls was to make her life occupied with something so that she would not be too bored at home.
Fortunately, the creation of "Tailor-Made by Siu Lan" really helps Siu Lan to meet many new friends as Vangi wished. Some of them would call and visit her regularly. From the perspective of a daughter, it seems this business has built a small community for Siu Lan, and shared some of her responsibility of taking care of her mother.
Sought-after but unwilling to increase prices significantly
Siu Lan takes care of all the issues related to the business by herself most of the time, including procurement of materials and production. Whenever it is market day, Siu Lan prepares many handcrafts in advance. She rarely misses any market day. She is always there to explain the features of each product to the customers, to let them know more about her products. She is always there to take customers' measurement and chat with them.
In addition to tailor-made clothes for customers, Siu Lan also launches products with different designs.
As a brand, "Tailor-Made by Siu Lan" has become popular amongst the young literati and young artists ("wenqing") in recent years. It is sought after by the media in addition to being invited to set up her stall at various markets and exhibitions. Siu Lan is incredibly happy with her achievement. This business brings her a second life, and she has been appreciated by many people.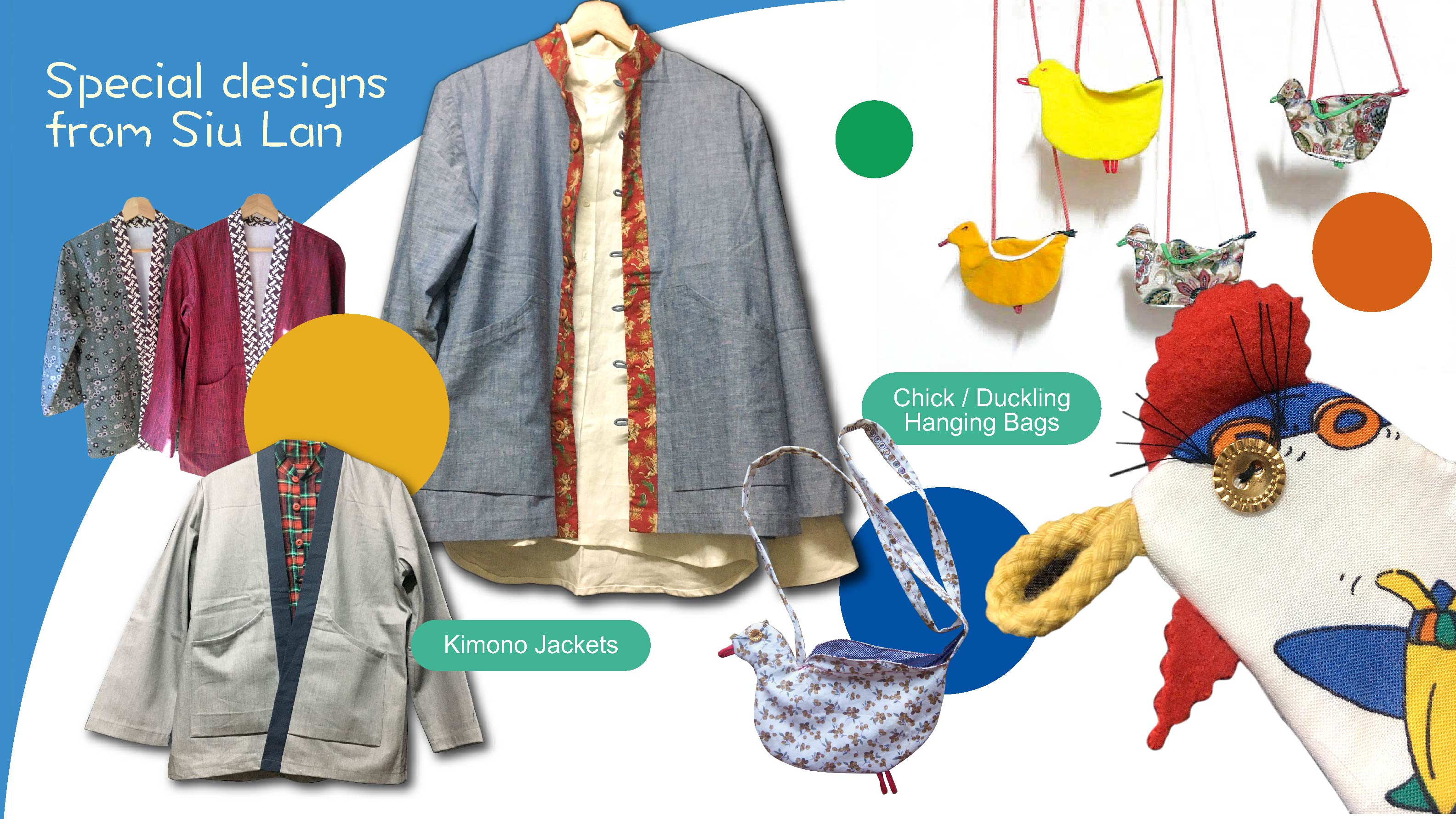 Vangi said Siu Lan's products are relatively inexpensive for a piece of cloth that is entirely handmade. Vangi wants to increase the price so that Siu Lan can make more money and thus the workload can be reduced; and hopefully, Siu Lan does not need to work too hard. However, Siu Lan insists that the price cannot be increased significantly because she is afraid that some people who love her design might not be able to afford it.
They utilize online platforms for promotion as well. They have registered a Facebook group called "Tailor-Made by Siu Lan" to create "a self-service platform for production and consumption". They use the platform to promote Siu Lan's ideas on tailor-making and her persistence on garment production. The Facebook group provides information about ordering methods and payment methods. Siu Lan is not familiar with the operation of Facebook, so the group is mainly managed by Vangi. Due to the Covid-19 pandemic which restrains the organization of physical activities, they have tried to use Facebook more often for promotion. They are thinking about adding an online ordering service to reduce manpower, but it seems it is not an easy job and won't ease Vangi's workload.
Working with elderly mother
Vangi helps Siu Lan with her business occasionally, but she has her job and thus cannot meet Siu Lan's demand sometimes, which creates some tensions between them.
"Sometimes Siu Lan expects me to help her post more messages on Facebook to introduce her products, she would like me to help her more, but I also have my job and interests, it is impossible for me to spend too much time on her business," Vangi said, Siu Lan's ideas for this business are beginning to exceed Vangi's expectation.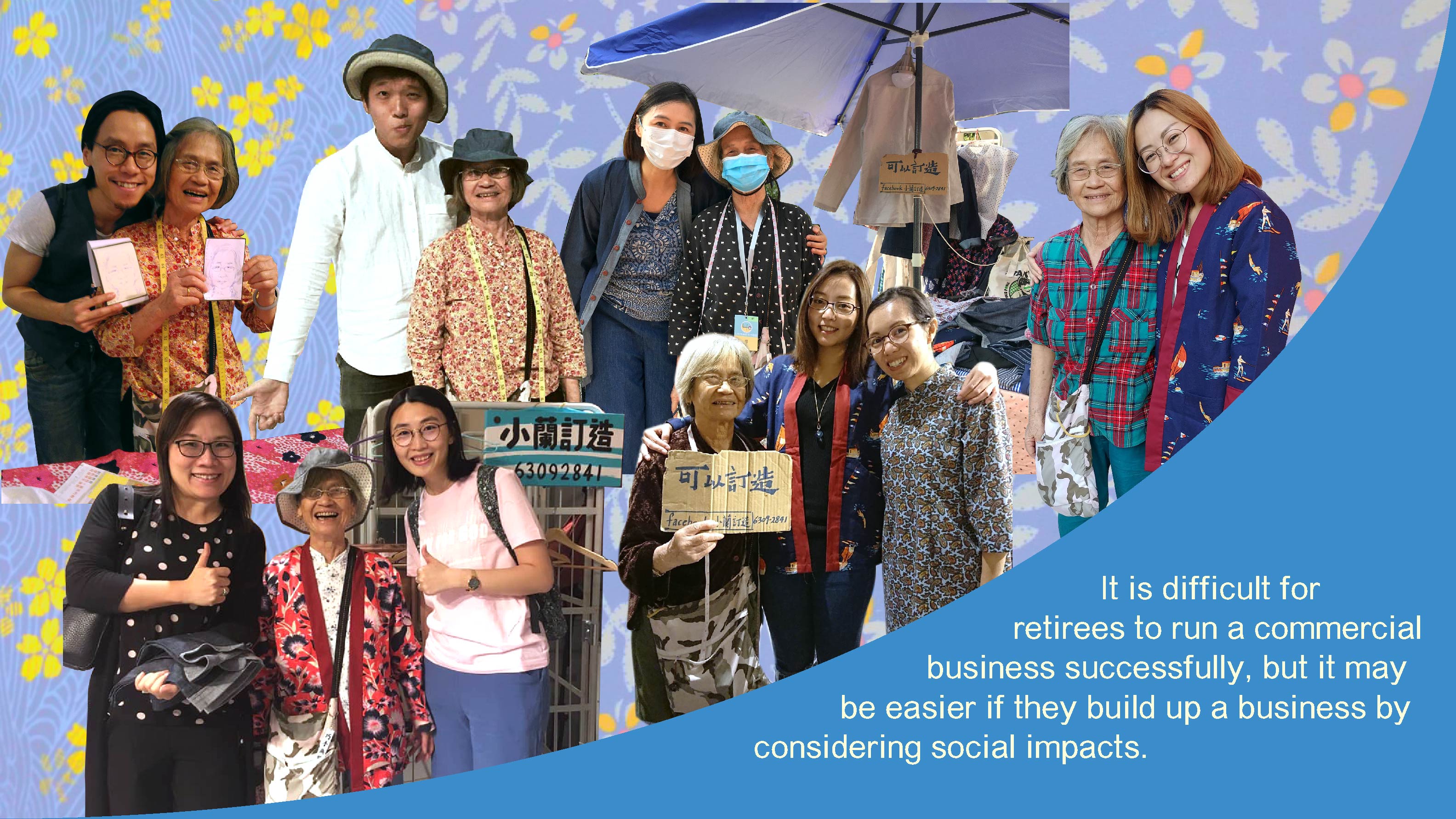 "Siu Lan's idea is not only being a craftsman. She wants to build a production line for making clothes. She would like to have more people to help her and wants to expand this business." Vangi explained that she had helped Siu Lan making clothes for many times and she did it from a perspective of learning. However, Siu Lan complained that Vangi was too slow in making clothes. As a result, Vangi no longer participates in the production but helps Siu Lan to build connections with external parties, such as negotiating about collaboration and consignment.
Vangi said that their biggest conflicts come from different opinions on business development. Siu Lan wishes to expand the business, but Vangi has reservations about the expansion. "Our goals are different, we do not share same idea, so we cannot reach a consensus. But I agree that the development of the business should be based on her ideas. I know it is a pity if she cannot expand the business…"
When she was asked if they had ever thought about looking for subsidies or loans to expand this business, Vangi was not optimistic about applying for government funding as her job per se has been involved in many different funded projects. "It would become very troublesome once you got the funding. It involves a lot of administrative procedures." Vangi believes that "Tailor-Made by Siu Lan" should not be overwhelmed by administrative work. Therefore, it is not an easy decision for Vangi to make.
Nevertheless, when it comes to the gains over the past ten years, Vangi agrees that Siu Lan has met more friends because of this business. There are more friends to care about her and Siu Lan, thus has eased her stress of taking care of her elderly mother. When she looks back, Vangi still believes that the decision they made ten years ago was the right one. If time could go back and she could choose again, she would still help her mother to set up the "Tailor-Made by Siu Lan" business.
Website
https://www.facebook.com/groups/1695254510686752/
Written in Chinese: Rena Lau
Translation by: Sui Chu Wu
Photography and Design: Jenny Ma