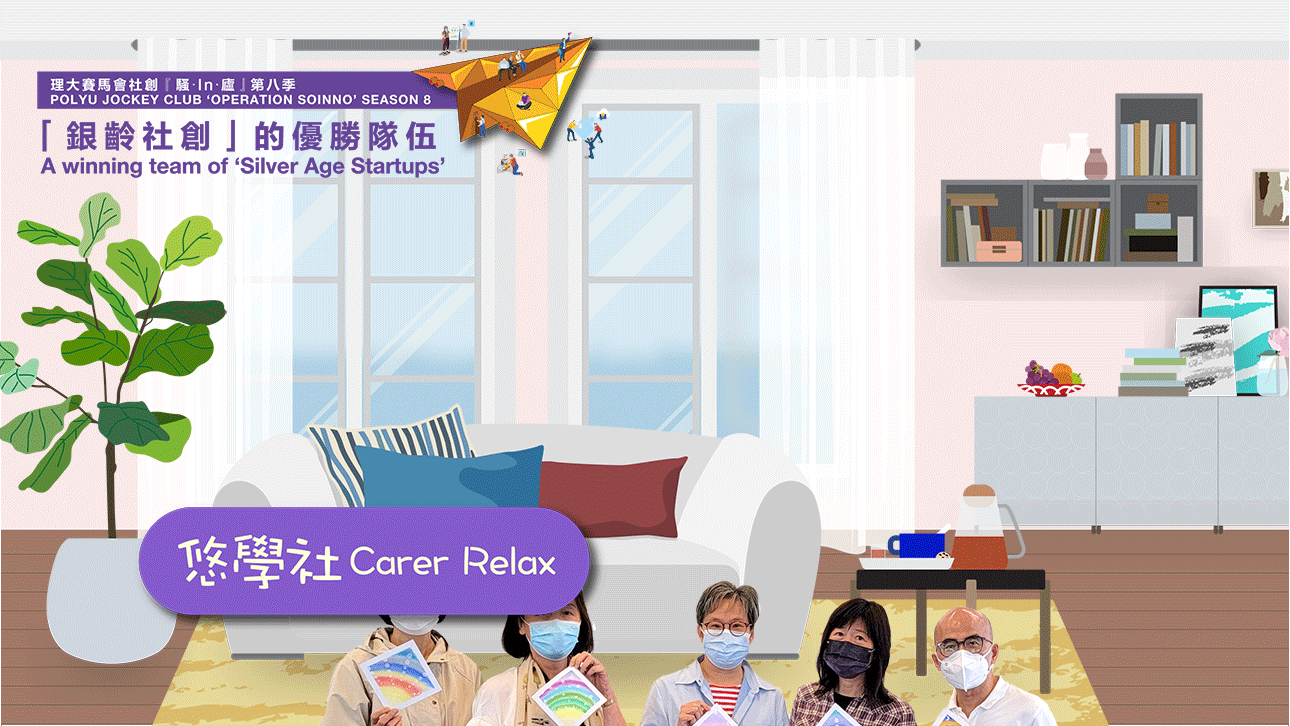 Care Relax, a winning team of 'Silver Age Startups' progamme organized by "PolyU Jockey Club 'Operation SoInno'". The five founding members are Maria, Lydia, Shirley, Suk Yee and Kent. They come from various backgrounds, including social worker, event planner, administrator, and IT personnel. They did not know each other before participating in our workshop. As they needed to form a team, they searched for participants that shared similar interests on the self-introduction interactive webpage provided by the program. Finding teammates in this way was a new experience for them.
Fortunately, the process of their team formation went smoothly and soon they formed a team of five; and have gone through an entrepreneurship journey together for half a year.
From Arts to the needs of caregivers
Today, the five of them gathered to complete a pastel Nagomi art painting and talk about their challenges and achievements in entrepreneurship, as well as changes they experienced in the past six months.
Lydia and Suk Yee are the instructors of the Carer Relax team. Lydia has teaching qualifications in Pastel Nagomi Art and stretching exercises. Suk Yee is an instructor of leather handicrafts and Pressed-Flower Art. Maria is responsible for liaison. Shirley said she did not know much about teaching, but she is familiar with administration and management and become the secretary of their team. Kent is in charge of promotional tasks.
They recalled their team's initial idea was to lower the price of participation in arts and crafts activities and to allow more people to the benefit in relieving mental stress. However, the mentor of the social innovation program reminded them that their chosen area was too broad and guided them to think more deeply. The mentor asked them to think about who their target clients were, and how to carry out their project so that they could enhance their social impact.
The team members had different opinions when they were discussing about targeting clients. When caregivers were suggested for the first time, Maria and Lydia were somehow reluctant to accept this idea as they were caregivers by themselves. Maria explained, "I actually did not want to target at caregivers at the beginning because Lydia and I were caregivers already. I had been taking care of my parents for a long time. Although they have passed away, but I am still a caregiver now. It seems like it's an eternal duty for me." To Maria and Lydia, the identity of 'caregiver' looks like an indispensable identity and responsibility. It brings invisible stress to them by just thinking of it. However, and undeniably, they all believe that our society should provide more support to the caregivers.
There are no official statistics on the number of caregivers at present, but the available scattered data shows that there should be quite a large number of caregivers in our society. If we add up the number of people with disabilities and chronic illnesses, the elderly and the students with special needs, we will know there are hundreds of thousands of hidden caregivers making contributions to society in a quiet and invisible way.
Shirley, another team member, is very sympathetic to the caregivers. "I am not a caregiver, but my mother is. She has to take care of my injured father. I have witnessed how much stress my mother is suffering from in these years. For example, she does not dare to talk about her condition with other people. I dare not to ask her regarding her and my father's conditions even though I am their daughter; and I cannot help much too. Caregivers are really helpless. At the same time, their children and even the entire family actually lives under great pressure too. Therefore, I want to do something to help the caregivers and hence their children can benefit as well."
Maria also shares her experience of interacting with different caregivers in the process of developing their entrepreneurship. "The workshop organized by JCDISI pushed us to learn the issue in an in-depth way, which was helpful for the positioning of our team. For example, one of the assignments was to interview our targeting clients. I had an interview with an elderly couple who were both suffering from cancers. They have their own illnesses and pain, but they still have to take care of each other. From their cases, I realized that the care recipients and the caregivers may have the same status, only that one maybe just a bit stronger than another one. It reminded me about the days when I took care of my mother day and night. I think we would be much more relaxed if there were some game therapists who could bring us even a short break of happiness and relief. As caregivers, we all want to have some free time or have a break from caregiving. It would be a great help if we can even learn something at the same time. Because I have experienced it, so I know how hard and how helpless it is. By providing some relief activities to caregivers, I can share my experience with them, have fun with them and accompany them to go through this process."
Insist on home teaching and be considerate of the caregivers' difficulties
Carer Relax aims to soothe the caregivers' emotions, help them to release stress through participating in artistic activities; and eventually bring back happy memories to the care recipients. Their service is called "Easy Breezy In-home Learning", which involves visiting caregivers' homes to provide artistic services. "Why do we want to provide the services in their home settings? It is because we can feel the atmosphere of the family if we go to their home. We can place artistic products in their home, for example, after the flower arrangement class is over, to help to add some colour to and soothe the atmosphere at their home." Maria, who was a caregiver before, believed that the "home program" is helpful in reducing caregivers' stress.
On the evening of our interview, Lydia was teaching a caregiver Pastel Nagomi Art in a fast-food restaurant. It was a 1.5-hour lesson. Apart from teaching the techniques of Pastel Nagomi Art, Lydia, who used to be a social worker, would also spend some time on counselling the learners to help them get past their problems in daily life.
It was eight o'clock in the evening after the lesson. Lydia took the learner to the MTR station and resumed our interview. Lydia said frankly, "It is quite hard for me to teach in a home-based setting, because I have to accommodate to the caregivers' free time and a convenient location for them."
So why still insist on home teaching?
Lydia said emotionally, "I was a social worker. I have seen many cases in the past years. I think caregivers should do something to empower themselves, because their lives have been consumed a lot by the care recipients."
"When I first returned to Hong Kong to take care of my mother, I had to take care of her and be available 24 hours a day, until she agreed to accept the help of the Indonesian domestic helper when her condition deteriorated. However, it does not mean that I can put down my role as a caregiver. I am her daughter and she still relies on me for emotional support and personal care. For example, she would ask me to help her take a shower and accompany her to see doctors." Lydia said she was a lucky one compared to other caregivers, because many caregivers are too busy to attend to something else. That is why she tries her best to accommodate to the caregivers' time and locations for the lessons, and hopefully they can relax for one or two hours to learn some arts without worries.
From the design of events to the arrangement of activities, Carer Relax always puts their clients, the caregivers, first. They definitely are a team full of enthusiasm.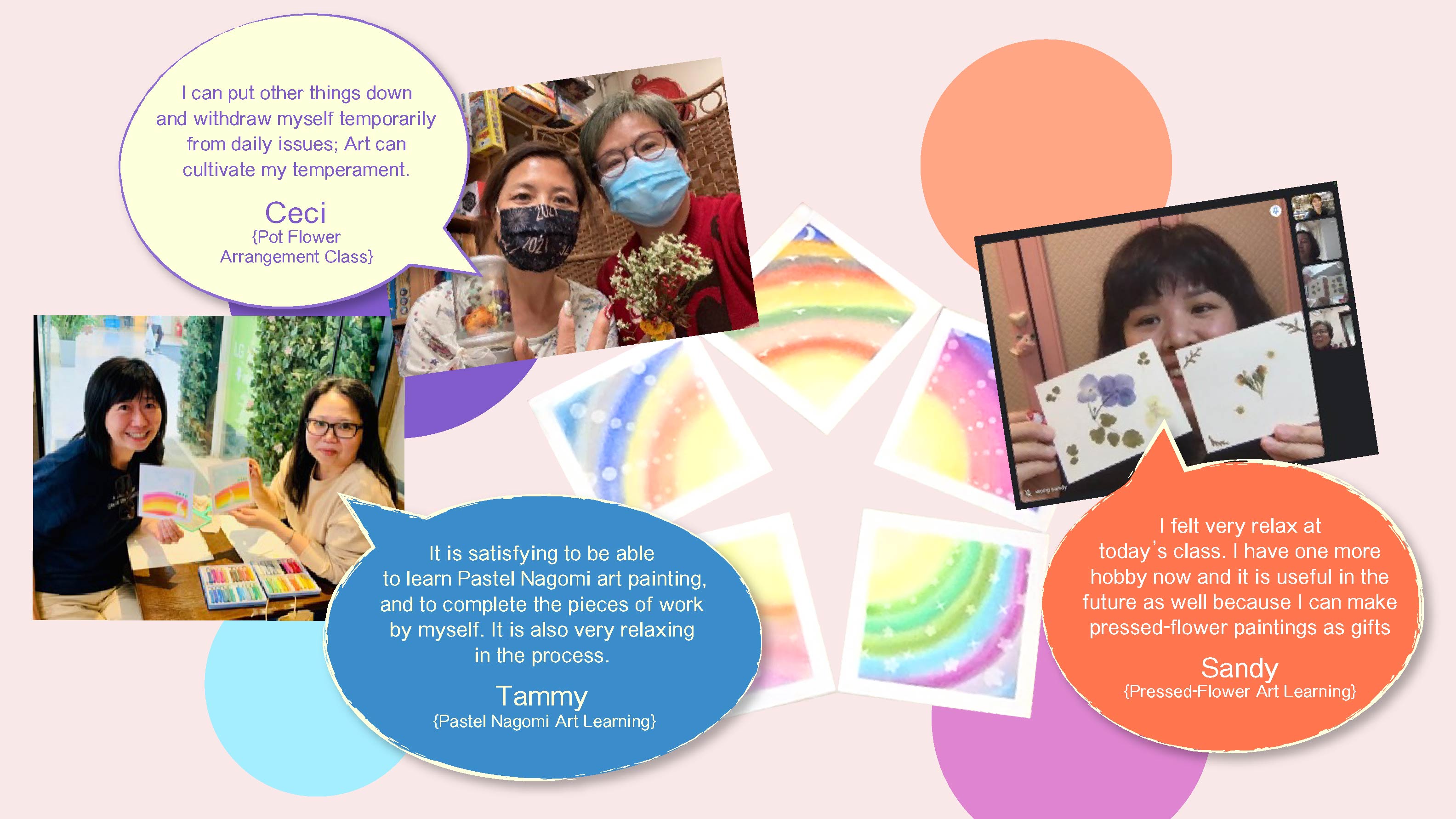 The way forward
In the coming few months, Carer Relax would like to launch a fee-based program to test the market's response. Additionally, they plan to get in touch with more NGOs to promote their services and would like to find more instructors who are willing to devote their time to help with their program. Ultimately, Lydia added, "It's like doing matching, we would like to put suitable instructors to different families to teach the caregivers."
In the story of the establishment of Care Relax, you can see the dilemma and the way out of the caregiver. If you have friends who are about to forget themselves in times of taking care of others, please stop and care about them, and let them have their "Me Time" to go relaxing.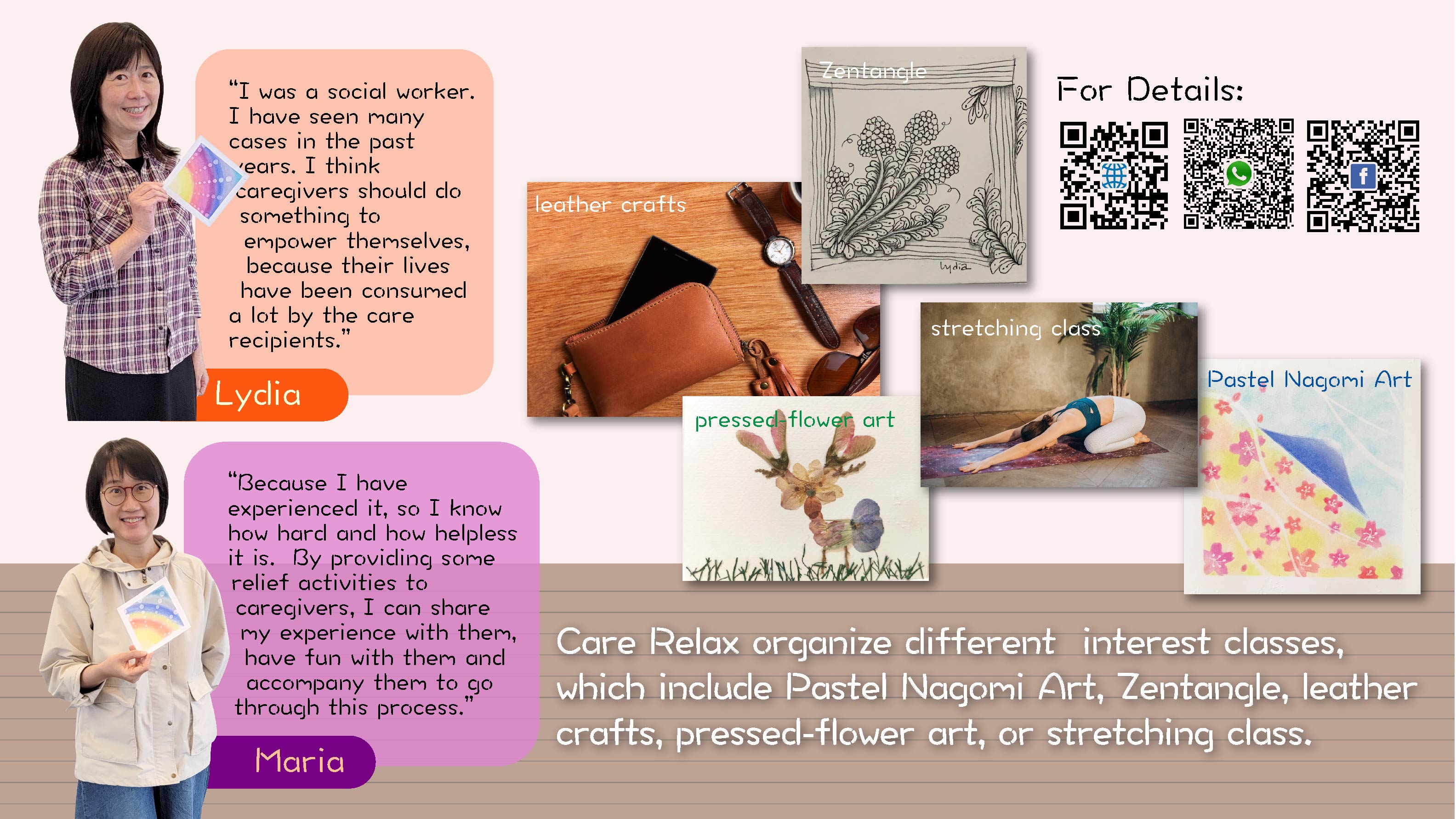 Written in Chinese: Rena Lau
Translation by: Sui Chu Wu
Photography and Design: Jenny Ma