This is the story of Mr Andrew Lau, the founder of a small enterprise.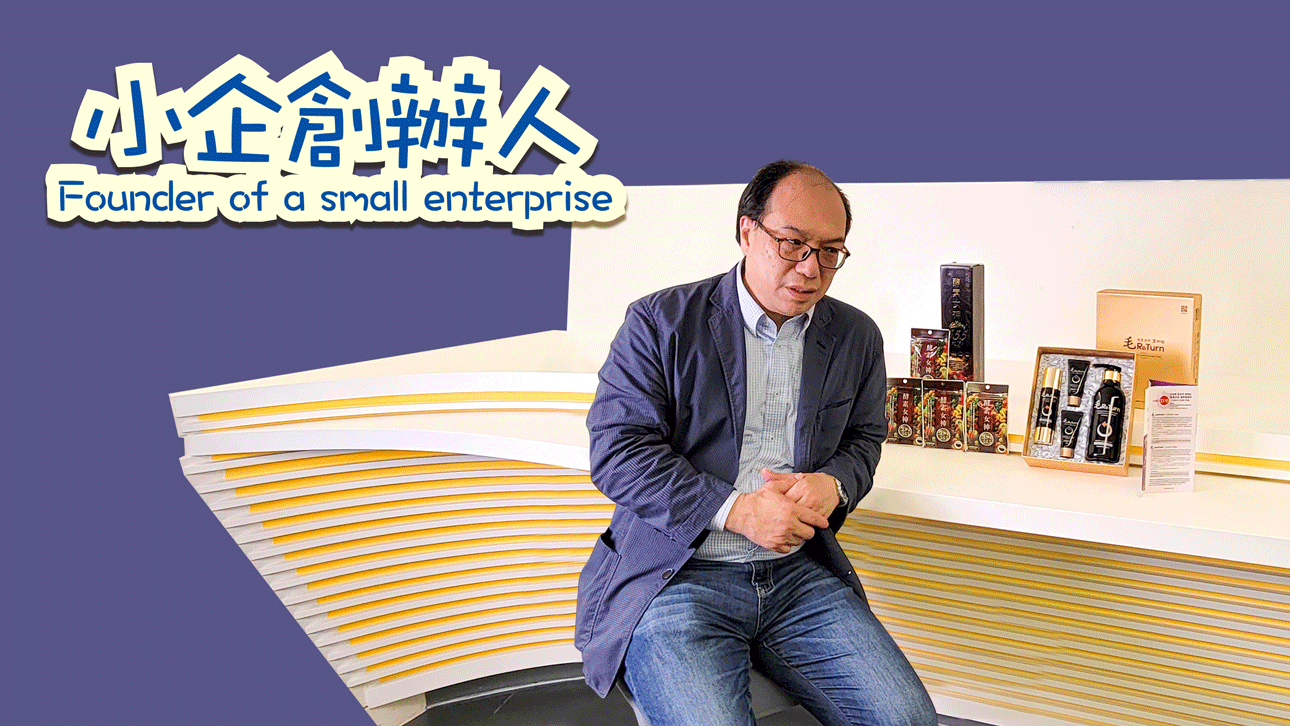 Setting up a business: start with the areas that are familiar with
About ten years ago, Andrew, who was 50-year-old at that time, started his own business as a buyer after a friend's introduction. Andrew does not think this was a well-planned start-up but something he has been doing for the last ten years. A "Buyer" is an intermediary who looks for and buys suitable products overseas and then promotes and tries to sell them in Hong Kong. It is more like a self-employment business.
Before his retirement, Andrew worked at schools. But he had been exposed to the import and export business when he was young and was quite confident that he was able to conduct the work of a buyer. As a result, he accepted this business unhesitatingly after his friend's introduction. Andrew expressed that he was thinking to give it a try with a playful attitude at the beginning and did not expect that he would do it for ten years.
Daily operations
When Andrew had just started his business as a buyer, he used his own money and followed his friend's instructions to import goods from the UK and then supplied them to designated companies in Hong Kong. In the beginning, he could make about 30% profit on the transactions. However, as there were more and more competitors joining in, there were fewer profits to be made. Andrew started to think about transforming his business and began to start selling as well.
Initially, Andrew focuses on doing retail sales in supermarkets by renting a shelf to sell his products. However, he needed to pay a shelf fee and required a promoter to be present and thus it was very costly. In addition, it is not easy to sell new products in supermarkets. Firstly, it is necessary to have good personal relationships and social networks, such as someone who is an existing supplier for supermarkets and is willing to make introductions. Secondly, various fees must be paid to the various parties involved. Andrew knows that it is difficult to make a reasonable return with this business model, but still, he has tried for several years. There were ups and downs throughout these years; some products were popular, and some were not. Although the operation of his business was not so smooth, Andrew did not give up and kept trying different approaches and gaining work experience.
Challenges of his business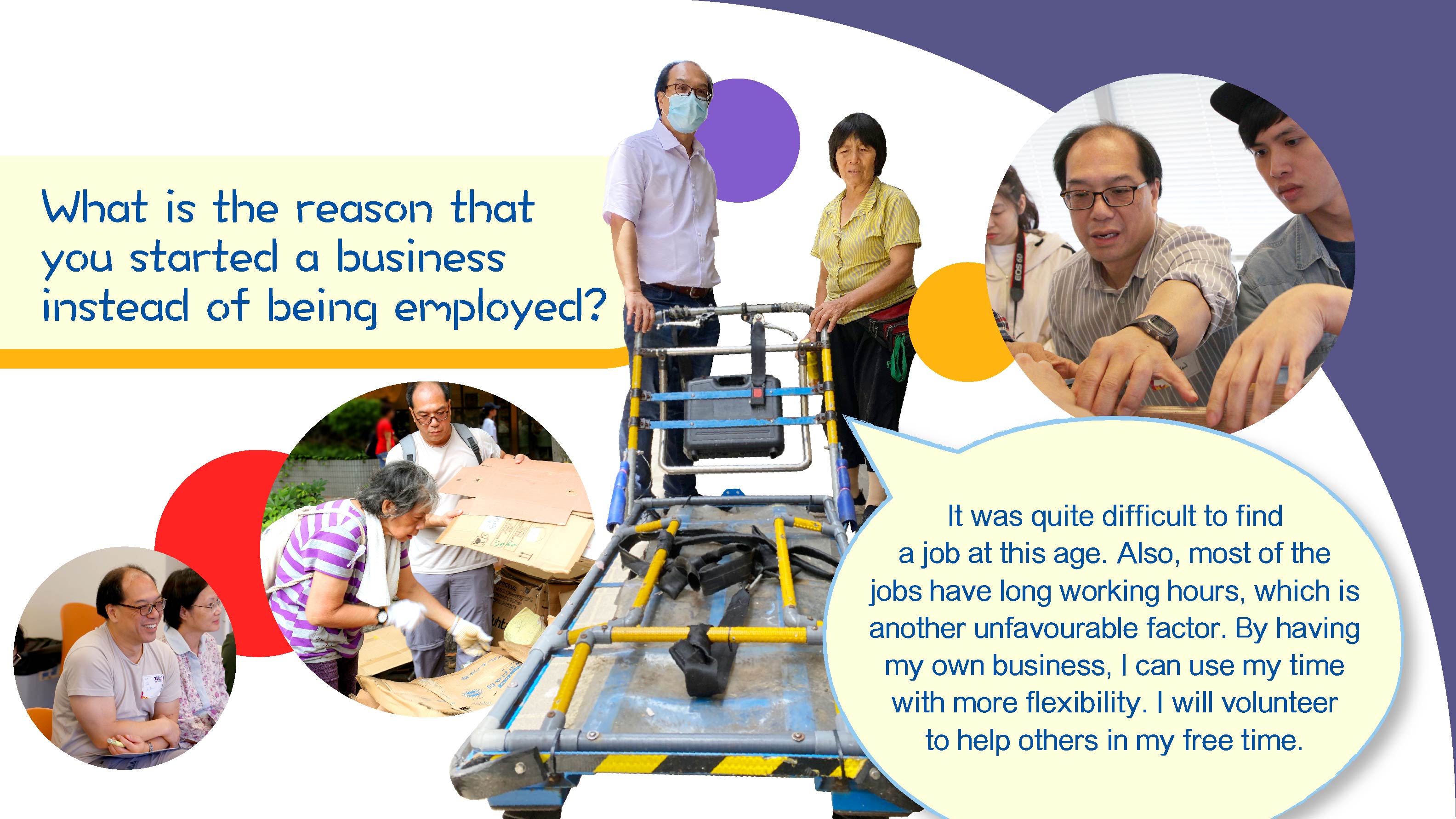 Summarize what he learned from these years' experience, he said that the products must be attractive if you want to put them in a supermarket for selling and that it is better to have varieties of products for customers to choose. However, it is a big investment for small enterprises to import a series of products and there will be high risk as well. For example, at one time he imported beverages that had limited shelf life and needed to be sold as soon as possible. Otherwise, they would have turned bad and could only be discarded. He also experienced slow sales sometimes and many products were not sold, which resulted in a loss in the end.
Setting up stalls in department stores was another challenging experience for Andrew. The competition was intense at that time. The operating costs, such as shelf fees, were extremely high; and as a result, he had to give up the plan of selling in shopping malls.
Compared to setting up a business and finding a paid job, Andrew pointed out that it was quite difficult to find a job at his current age. Also, most of the jobs have long working hours, which is another unfavourable factor for him. By having his own business, he can use his time with more flexibility. Now, he will volunteer in his free time and help others. Andrew is also a member of the co-creation team of PolyU Jockey Club Operation SoInno to re-design recycling trolleys for waste pickers and help the newly designed recycling trolley to be tested in the community.
When he was asked if he had ever tried to find extra funds to expand his business, Andrew admitted that it was not easy to apply for loans from the banks. He had to draft a decent proposal and he did not want to be in debt. Therefore, he did not try this approach. However, he has applied the government's funds for the development of small and medium-sized enterprises (SMEs), such as the "SME Export Marketing Fund" provided by the Trade and Industry Department. This funding scheme offers financial assistance to SMEs for promotion activities and, for example, subsidizes up to half of their advertisement costs. However, he was not sure about the terms of the fund. He said that he still has not received the funding even though he has applied to it for a long time.
But Andrew shows his unyielding spirit and still wants to try to import other products in the future. He keeps paying attention to the market demand; and will also try the new trend of online selling.
Advice for people aged 50+ who are interested in setting up a business: difficulties and supports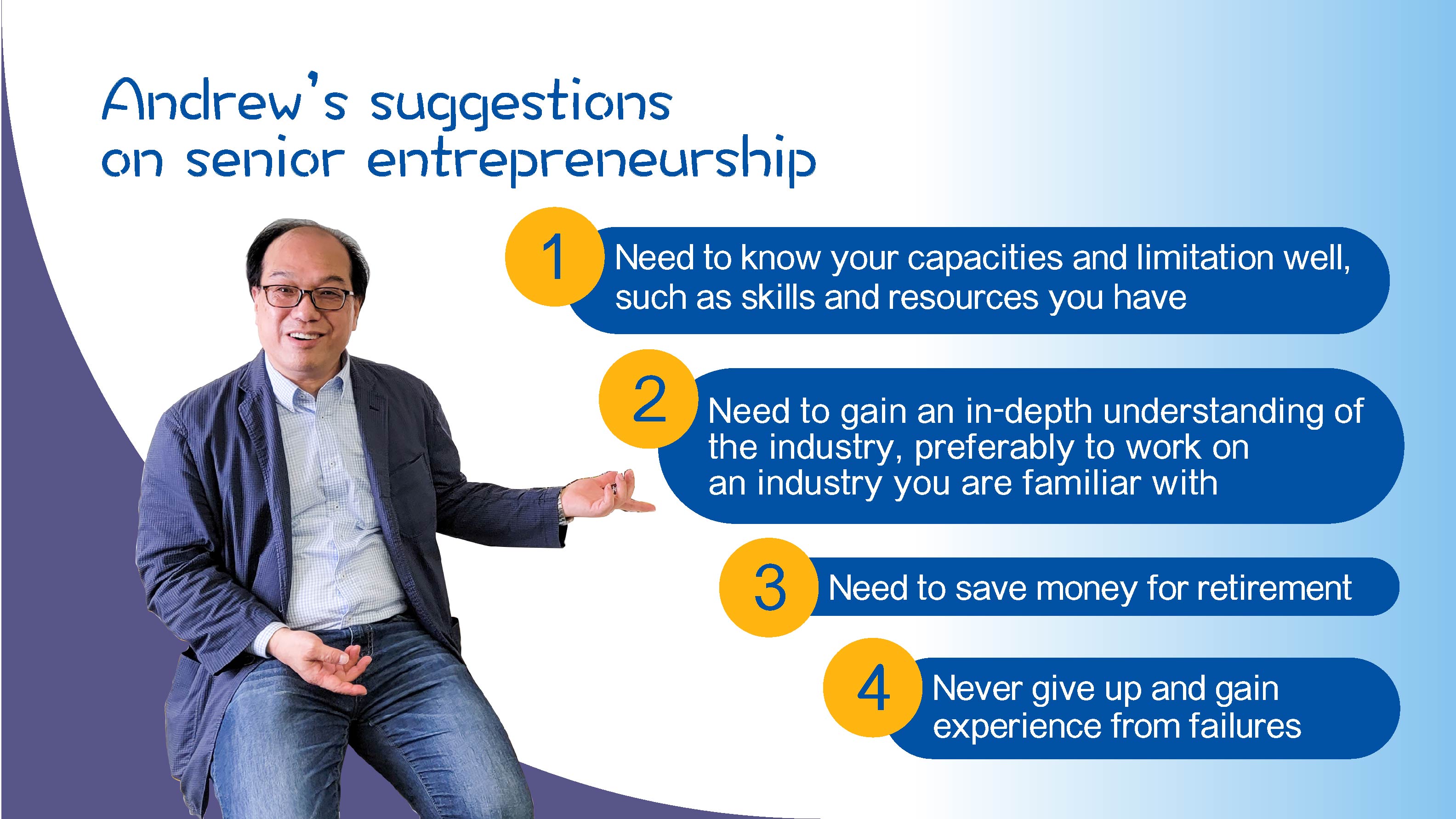 Regarding older people who are interested in setting up a business, Andrew thinks that their cost of time spent on the enterprises would be relatively high. If one starts a business after 50 years old and has tried it for several years or even for ten years, it will be getting more difficult for them to re-enter the labour market when one gets older. Therefore, he does not recommend to retirees who do not have the entrepreneurial experience to set up a business without well-defined plans. Moreover, it is a high-risk move if retirees invest all their pensions in new entrepreneurship. They may lose their retirement pensions if the entrepreneurship fails, and the losses will outweigh the gains.
Andrew pointed out that potential entrepreneurs need to know their capacities and limitation well, such as skills and resources they have, together with their enthusiasm for that industry. Before starting a business, they need to conduct thorough information collection to gain an in-depth understanding of that industry. It would be difficult to succeed if the entrepreneurs are not familiar with the related industries in advance.
Andrew believes that tangible financial assistance will be helpful to new entrepreneurs. In addition, it would be even better if physical places like warehouses could be provided for entrepreneurs to use, as the sky-high rents in Hong Kong are hard to afford and become a hindrance for people to start a business.
Written in Chinese: Rena Lau
Translation by: Sui Chu Wu
Photography and Design: Jenny Ma