Social Innovation Symposium || "Call for Ideas" Programme || Enquiry
Hong Kong is a rapidly ageing society - it is becoming more common for an elderly to take care of another elderly. On the other hand, since schools were suspended and non-emergency rehabilitation services were largely reduced under the pandemic, students and people with disabilities had to stay at home which in turn exerted huge pressure on carers. Coupled with tragedies concerning family carers from time to time, the hardship faced by carers has attracted attention from various sectors once again.
"Carer" is an identity which all of us may pursue, be it intentional or unintentional. We may need to take care of our relatives or friends and become a carer at any moment. So, when we are carers, what kind of assistance will we need? When we are not carers, how can we utilise our expertise, strengths, knowledge and network to support the family carers in the community?
This season in our Symposium, we started a dialogue about Carers, arouse public awareness on their needs and community support, with the aim to innovate services for them and relieve their caring burden.
DATE | January 7, 2022 (FRI)
TIME | 10:00-13:00
VENUE | 13/F, Jockey Club Innovation Tower (Block V), PolyU
FORMAT | Online Webinar
10:00-10:30 | Keynote Speech: The Policy Vision to Carer Support (Prof. Hector TSANG)
10:30-11:30 | Guest Sharing and Panel Discussion 1: Capacity Building of Carers on Personal, Family and Community Level
11:30-12:30 | Guest Sharing and Panel Discussion 2: Innovative Service - Let Carers be Seen
12:30-13:00 | Briefing on "Call for Ideas" Programme
* Please refer to the bottom of this webpage for Keynote Speech and Guest Sharing PowerPoints
【Keynote】The Policy Vision to Carer Support
Guest Speaker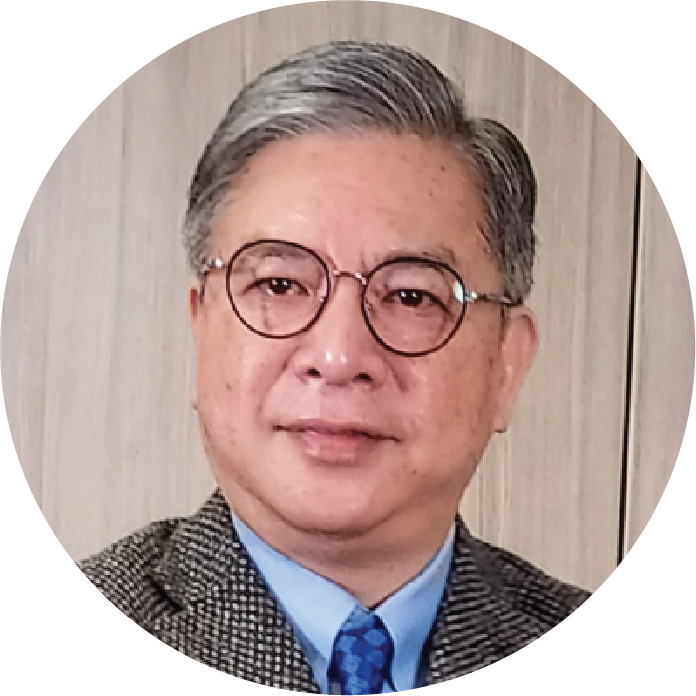 Prof. Hector TSANG
Cally Kwong Mei Wan Professor in Psychosocial Health, Chair Professor of Rehabilitation Sciences and Head,
Department of Rehabilitation Sciences, The Hong Kong Polytechnic University
Keynote Title: The Policy Vision to Carer Support
【Panel Discussion 1】Capacity Building of Carers on Personal, Family and Community Level
Moderator: Prof. Hector TSANG Wing-hong
Guest
Dr Ada FUNG
Assistant Professor, Department of Applied Social Sciences, PolyU

Psychological Capacity Building of Carers in Community

Dr Janet LEUNG
Associate Professor, Department of Applied Social Sciences, PolyU

Building a Resilient Family: Implications for Carer Support

Dr Aria YANG
Research Assistant Professor, School of Design, PolyU

Integrated Model of Care for Community Design: Case Studies
【Panel Discussion 2】Service Innovation - Let Carers be Seen
Guest
Moderator: Mr LAI Kwan Ho, Raymond

Business Director
The Hong Kong Council of Social Service


Miss WONG Lok Yung & Mr CHUNG Sai Cheong
Representatives, Care for Carer Platform

"Giving You an Hour": How to connect the carers
in the gap of their working times?

Ms Christina LO
Project Director, Big Silver Community Limited

"Carer Garden" Virtual Easy Talk

Ms Connie Hung
Programme Coordinator/ Chairperson, Management Committee
TALK Foundation Limited, Love V Act

"Informal Communication Network":
How to establish mutual trust in a support group?

Mr Si Sze Ming
Team Leader, Group & Community Work Unit,
H.K.S.K.H. Lady MacLehose Centre

"Be My TimeMate" Community Project
We believe the caring responsibility should not be borne solely by the carers. There are many enthusiastic groups or people in the community with expertise, capacity and knowledge that can become an important force in the community to support family carers. Therefore, we, co-operating with The Hong Kong Council of Social Service (HKCSS), organised the Community Support for Carers: "Call for Ideas" Programme. In realising innovative ideas, we aspire to improve carer's situation and build a more carer-friendly community!
Themes for "Call for Ideas" Programme
1. Enhance public awareness on the carer identity, promote identification of carers in need, and encourage community support for carers
It is common in our society to assume caring responsibility as the obligations of certain family members, mostly the female in the family. For this reason, many women take up the role as "carers" and sometimes overlook their personal well-being, namely physical, mental, social and spiritual needs.
How might we visualise carers' situation, so that carers themselves can be more conscious of their own needs, and different stakeholders in the community can identify and understand carers, thereby provide them with suitable community support?
2. Promote information sharing and mutual support among carers so as to enhance carers' capacity
Unprepared freshman carers handling the sudden caring responsibility may feel extra helpless when unable to locate suitable community resources and services; experienced carers may need extra support in going through the grief when family member passes away; carers for persons with disability are both physically and mentally exhausted… Carers at different stages and carers of persons with different conditions differ in their needs. How might we tailor community support to enhance the accessibility of information, mental support and mutual support network for different carers?
3. Develop community-based respite service initiatives
One of the major difficulties faced by family carers is that they have to take care of the family member around the clock, meaning there is no room for resting or fulfilling their own needs. How might we connect community resources and strengthen the support to carers provided by various stakeholders (such as merchants, property management units), so as to create a physical space for carers to take a break, or help carers spare some time from their usual schedule for a breath?
Co-Creation Workshops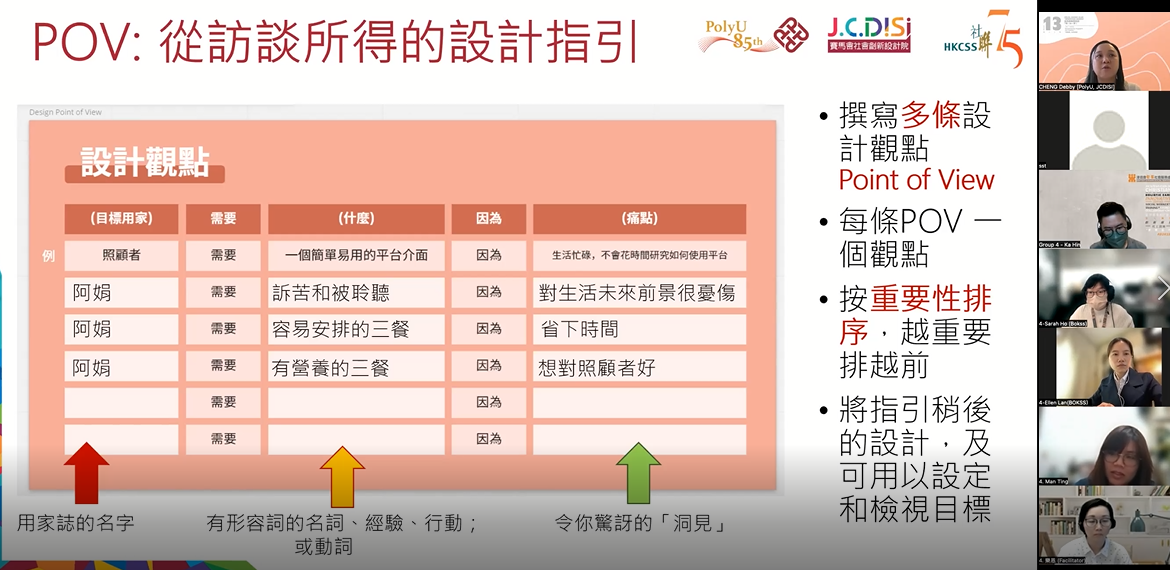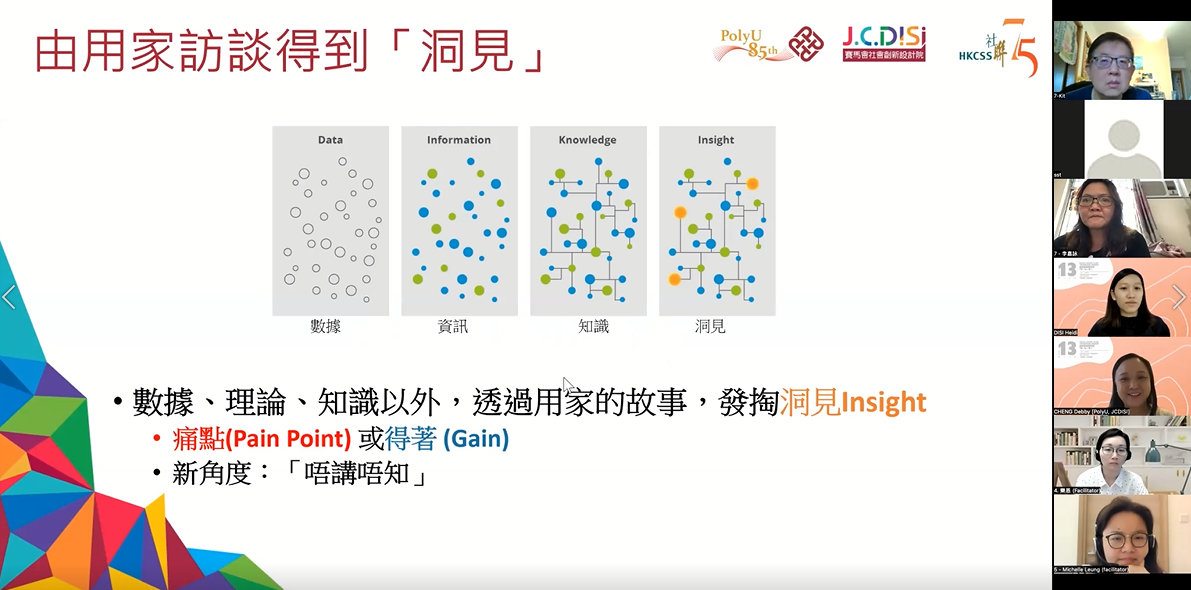 Seven shortlisted teams entered the "Community Support for Carers: Call for Ideas Programme" had successfully finished four sessions of Co-creation Workshops. Throughout the workshops, we provided design thinking training and professional support for selected teams to verify their service ideas and modify their action plans. After the co-creation workshops, we further selected three outstanding teams to enter the Action Project stage, assisting them in the implementation of carer service plans within a one-year period by providing them support such as in financial, programme design and community liaison.
The three selected teams are:
Baptist Oi Kwan Social Service & NGO partners
Sai Kung District Community Centre
1st Step Association
This email address is being protected from spambots. You need JavaScript enabled to view it. / 3400 3433